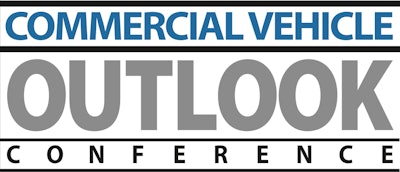 The 5th annual Commercial Vehicle Outlook Conference takes place Aug. 20-21 at the Kay Bailey Hutchinson Convention Center in Dallas, and registration for fleets, distributors, suppliers and OEMs is open.
Fleets can register for $295 for the first registrant and $245 for up to five additional registrants. Those prices include all sessions, meals and networking opportunities. Click here to visit the registration page. 
CVOC features speakers who go in-depth on issues that impact fleets on a daily and yearly basis. This year's will feature a panel discussion on the equipment life and trade cycle and how regulations, costs and reliability are changing that cycle, along with using technology to improve driver performance, an examination of the current state of politics, an economic outlook and connectivity via fleet telematics.
Click here to learn more about the 2014 CVOC or to see registration options.