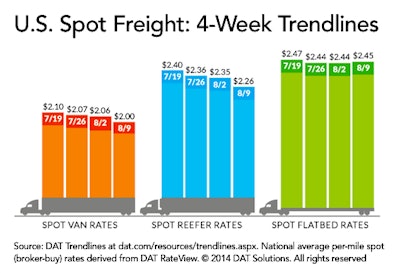 The freight transportation sector slowed in July, following a seasonal trend, with both freight shipments and freight payments down 3.9 percent from the previous month in the latest Cass Freight Index. (Slide 1)
The drop was consistent with previous summers' drops, so should not be seen as the start of a decline in freight for the second half of 2014, notes Rosalyn Wilson, a supply chain expert and senior business analyst with Parsons.
After five months of increases, shipment volumes decreased 3.9 percent in July (Slide 2), still coming in 4.2 percent higher than shipment activity a year ago.
July freight expenditures index fell in tandem with freight shipments, dropping 3.9 percent from June figures. July payments for freight are 6.7 percent higher than the corresponding month a year ago.
"There was not much change in rates in July as capacity loosened with the drop in shipments," Wilson adds. "That said, in recent weeks LTL carriers have been reporting that their pricing is starting to strengthen, a sign that across-the-board price hikes could be on the horizon."
Most recently, spot truckload load volume (Slide 3) has been stable while van and refrigerated rates slipped during the week ending August 9, according to DAT Solutions, which operates the DAT network of load boards.
The overall number of loads posted declined 1 percent compared to the previous week while the number of available trucks increased slightly (0.2 percent). The overall load-to-truck ratio decreased 1.2 percent to 7.7 nationwide, meaning there were 7.7 loads posted for every truck available on DAT load boards during the week.
The national average van rate dropped 6 cents (-2.9 percent) to $2.00 per mile (including a 1-cent fuel surcharge decrease). Load availability rose 1.7 percent while posted capacity increased 1 percent for the week. The national van load-to-truck ratio remained at 3.1 loads per truck.
The national average reefer rate fell 9 cents (3.8 percent) to $2.26 per mile. The number of posted refrigerated loads increased 4.3 percent and capacity increased 1.1 percent compared to the previous week; the resulting refrigerated load-to-truck ratio was 9.2 loads per truck.
Slowing volumes from central California are having an impact on rates and other produce-heavy regions have yet to fill the void. However, rates for reefer loads remain 11 cents higher than August 2013, the report notes.
Flatbed rates inched up 1 cent (0.4 percent) unchanged as a national average at $2.45 per mile. Load availability decreased 4.2 percent while capacity was virtually unchanged at plus-0.8 percent. The resulting load-to-truck ratio fell 4.9 percent compared to the previous week, from 36.4 to 34.6 loads per truck.
In one of a couple of recent reports on June activity, FTR's Trucking Conditions Index showed some positive upward movement after moderating slightly during the prior two months (Slide 4). At a reading of 7.64, the June index reflects an environment in which carriers are gaining market power but rates are struggling to keep up with cost inflation. The index rose 1.9 points from May, yet April and May were substantially below the 8.35 average seen during Q1.
"Truck freight continues to show steady increases and the capacity situation is unlikely to loosen up any time soon," says Jonathan Starks, FTR's director of transportation analysis. "These good developments are partially offset by slower than expected growth in contract rates. Spot market rates are still elevated, although they have shown normal moderation during the summer months. We expect to see both spot and contract rates continue to rise as we get into the fall shipping season."
The Freight Transportation Services Index, which is based on the amount of freight carried by the for-hire transportation industry, declined 0.9 percent in June from May, falling after four consecutive monthly increases, according to the U.S. Department of Transportation's Bureau of Transportation Statistics.
The June index level (119.1) was 25.9 percent above the April 2009 low during the most recent recession. (Slide 5)
The May index, the all-time high, was revised to 120.2 from 120.0 in last month's release. Monthly numbers for January and March were revised down slightly.
The Freight TSI measures the month-to-month changes in freight shipments by mode of transportation in tons and ton-miles, which are combined into one index. The index measures the output of the for-hire freight transportation industry and consists of data from for-hire trucking, rail, inland waterways, pipelines and air freight.
The index for each freight mode declined in June with the largest decline in pipelines. The declines took place when construction spending, which often is a driver of transportation shipments, declined in June after several months of increases, BTS notes.
Construction spending declined although there was growth in several other economic indicators. Despite the decrease, the freight index was higher in each month of the second quarter of 2014 than it was in any month of the first quarter of 2014 when weather impacted transportation.
Industrial production, a key freight indicator, increased 0.4 percent in July for its sixth consecutive monthly gain, according to the latest report from the Federal Reserve. Manufacturing output advanced 1 percent in July, its largest increase since February. (Slide 6)
The production of motor vehicles and parts jumped 10.1 percent, while output in the rest of the manufacturing sector rose 0.4 percent.
The production at mines moved up 0.3 percent, its ninth consecutive monthly increase. The output of utilities dropped 3.4 percent, as weather that was milder than usual for July reduced demand for air conditioning.
At 104.4 percent of its 2007 average, total industrial production in July was 5.0 percent above its year-earlier level.
Capacity utilization for total industry edged up 0.1 percentage point to 79.2 percent in July, a rate 1.7 percentage points above its level of a year earlier and 0.9 percentage point below its long-run (1972–2013) average.