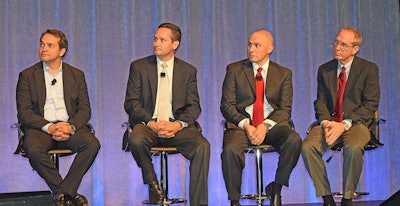 The Commercial Vehicle Outlook Conference is taking place Aug. 20-21. Click here to see all of the coverage of the event.
Technology and ever-changing needs of a fleet have drastically altered what once was a fairly standardized truck and equipment trade cycle.
Fleet and OE leaders addressed the life cycle of today's equipment during a panel discussion at the Commercial Vehicle Outlook Conference Wednesday in Dallas. And while their perspectives varied, their observations were consistent; trucking has become a vastly different marketplace than it was 10 years ago.
Adapters of new technology in the early 2000s soon became the biggest detractors as unproven innovations began to fail.
"The first generation we introduced to the fleet, we did have issues," John Diez, senior vice president, Ryder Dedicated says.
Diez says Ryder worked with OEMs and manufacturers to innovate the innovations to get a higher quality, more reliable product.
"The latest technology has performed much better and our clients are much more comfortable with them," he says, adding each new generation of EPA-compliant engines get better every year, "and we're seeing that year after year after year."
David Hames, general manager of marketing and strategy, Daimler Trucks North America, says post-EPA10 trucks offered better fuel economy and improved reliability over their pre-EPA10 counterparts, but both came with significant acquisition costs.
As efficiency packages have helped cut operational costs of the truck, they have driven up the acquisition price of the unit. Fleets are now looking to make more money with the truck on the road versus worrying about performance on the secondary market.
"To get return on investment, we're going to need to operate that piece of equipment longer," Diez says.
Dave Williams, vice president, equipment, Knight Transportation, says rising acquisition and maintenance costs have forced fleets to take a closer look at the costs of growing pains when evaluating when to trade for new trucks.
"Historically, acquisition price and residual value have ruled the day," he says. "Operating costs are a more substantial factor today. We've been looking much, much harder at operating costs."
Hames says spec'ing for fuel economy is now a top priority in most applications. Driver retention is an increasing priority while residual value is a decreasing priority.
"Fleets are no longer spec'ing for resale value," Hames says. "I see a lot more willingness to accept new technology."
And buying that new technology comes down to basic math, Williams says; Acquisition price + operating cost – residual value = total cost of ownership.
"It's that easy," he says.
Ryder operates roughly 170,000 vehicles in its fleet and also holds distinction as largest used truck dealer in North America, selling 15,000-20,000 used truck each year.
As Ryder looks to recoup more of its purchase price, Diez says the company's trade cycle for power equipment have risen nearly a year in the last decade.
But even as fleets hold on to better equipment longer, demand on the used market is near historical highs.
"I suspect on 2010 and 2014, we're going to see even higher residuals that we've previously experienced," Diez says.
Bruce Ewald, senior vice president of sales and marketing, Wabash National, says fuel efficiency and durability were major factors in trailer purchases as well, but the overall consideration is how much money the equipment is making for the company.
"When cost of equipment becomes to high, maintenance is really not the best place to put your money," he says. "It really doesn't matter if it's age or miles; it's the expense."