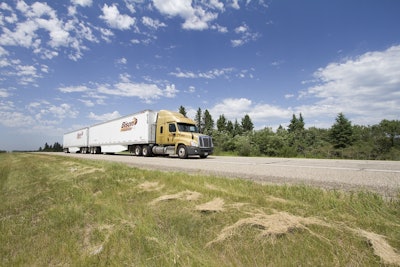 The Commercial Vehicle Outlook Conference is taking place Aug. 20-21. Click here to see all of the coverage of the event.
During the opening address of the 2014 Commercial Vehicle Outlook Conference in Dallas, Sandeep Kar, global director, automotive & transportation research for Frost & Sullivan, said the global truck market will increase tremendously between now and 2022. While the economies and product demand in the BRIC countries (Brazil, Russia, India and China) is waning, Kar said the focus has shifted to the "Next 11", which includes countries such as Mexico, Turkey and Indonesia.
In 2013, 2.7 million medium- and heavy-duty trucks were sold globally. By 2022, Frost & Sullivan predicts that number to reach 4.6 million. "China will remain the biggest market for these trucks, but there will be good growth in North American and other areas of the world as well," said Kar.
Demand by type of truck is also shifting, Kar said. Light- and heavy-duty truck demand continues to grow, but the medium-duty truck market is shrinking in terms of market share.
In terms of global demand for natural gas engines, Kar said 86.7 percent of medium- and heavy-duty trucks sold in 2022 would still run on diesel engine power, with 8.9 percent market share for natural gas. In North America, however, Frost & Sullivan is projecting that natural gas penetration will reach 16.8 percent in trucks sold in 2022, with diesel engines representing 73.2 percent.
Sticking to the North American truck market, Kar said we are experiencing a new phenomenon where new and used truck sales are peaking at the same time. "From here on, the future will be more volatile, and equipment cycle length has shrunk making it harder to predict," he said.
External factors such as the widening of the Panama Canal, the shift of manufacturing back to the United States and lower energy costs are creating a new reality in the North American freight market, which bodes well for fleets, OEMs and industry suppliers.
[youtube HxlfMVEVpJA nolink]
By 2022, Kar said fleets operating in North America should expect an average annual operating cost of $183,000 – or $1.90 per mile – per truck, a 10 percent increase in 2013. But fuel costs will make up 29 percent of that cost in 2022 compared to 33 percent in 2013, while driver wages will increase from 28 percent to 31 percent in that same time. Maintenance costs are forecasted to drop from 11 percent to 9 percent thanks in part to more reliable power equipment.
Citing Frost & Sullivan's 2014 U.S. Heavy Duty Fleet Managers Voice survey of the executives from the top 100 private and for-hire carriers in the industry, Kar said OEM engine penetration is growing, adding that warranty issues and residual value are influential in choosing new powertrain technology. On semi- and fully automatic transmissions, Kar expects 23 percent growth in the next equipment replacement cycle over the next six to 18 months.
Meanwhile, engine displacement in North America continues to trend toward smaller engines. Class 8 truck engine size preference was 13.7-14.1 liters in 2011. "That will fall to 13.4-13.7 liters in 2018," said Kar.
On the subject of advanced telematics, Kar said one of the biggest opportunities is in prognostics and remote diagnostics. In 2011, such subscriptions totaled 102,731 in North America but are expected to grow to 1.21 million subscriptions in 2020. "Any technology that reduces operating costs, fleets will pay for it if they can see the value," he said. "Telematics is reactive, and the onus on fleet manager to do something with the data. If you add advanced telematics, the system becomes far more intelligent and more proactive. More decisions that the fleet manager makes today will be done by the vehicle itself to consume the least fuel and generate the fewest emissions."
Kar also said trucks in 2022 will be "greener with lower emissions and higher fuel efficiency, safer, and connected with vehicle-to-vehicle and vehicle-to-intersection capabilities. When you add those three together, it truly will be a smart truck," he said. "The question will be are we smart enough to embrace the change?"