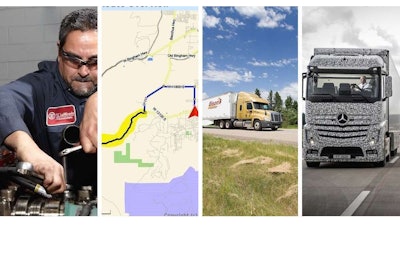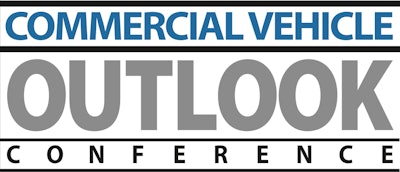 The 2014 Commercial Vehicle Outlook Conference in Dallas offered fleet and supplier attendees with insight on the future of trucking and how carriers are using technology today and will use technology in coming years to increase productivity and improve safety. Here is a roundup of the content from the fourth-annual Outlook, which is co-produced by Randall-Reilly and the Heavy Duty Manufacturers Association.
Trucking in 2022: Sandeep Kar, global director of automotive & transportation research for Frost & Sullivan provides his forecast for the North American and global trucking markets for the next several years and outlines what the trucks of tomorrow will look like and how fleets will use them to increase capacity.
Changing equipment lifecycle trends: A panel including representatives from fleets, OEMs and trailer manufacturers discuss how the marketplace for new equipment purchases has changed since the recession as fleets look to shorten lifecycles and what suppliers are doing to develop more reliable tractors, trailers and components.
Using tech to boost driver performance and safety: In part 1 of a two-part discussion on the "Connected Fleet," panelists examine new methods of improving driver productivity and safety, including driver scorecards, active safety systems and fuel economy developments.
Baier sheds light on mid-terms, foreign policy: Fox News anchor and Outlook keynote speaker Bret Baier shares his thoughts on the challenges facing the United States and how the mid-term elections in 2015 will impact the next presidential race. Baier also takes the audience behind the scenes of his Special Report show and talks about his own experiences as a journalist.
Omnitracs executive talks truck technology: Rich Glasmann, vice president of OEM strategy, sales and marketing for Omnitracs, provides his thoughts on telematics' role in the ever-changing world of truck technology, including driverless trucks, and how fleets may deploy new technologies in the future.
Using telematics to increase uptime: In part 2 of the "Connected Fleet" discussion, executives from OEMs, suppliers and fleets discuss the ways fleets will use prognostics and remote diagnostics in the future for better maintenance scheduling and how to discern what data should be considered when making the decision to take a truck off the road for maintenance before a failure occurs.
Trucking economy outlook: Donald Broughton, managing director and senior research analyst for Avondale Partners, shares his thoughts on the strength of the trucking industry and what economic factors create opportunities — and threats — for success in the future.