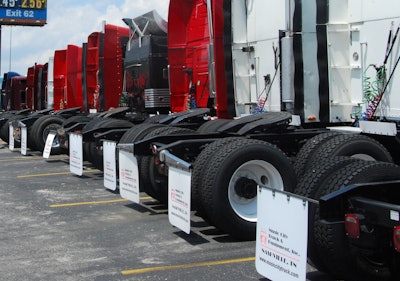 Preliminary data suggests August 2014 North American Class 8 truck net orders came in at 24,947 units, a year-over-year increase of 29 percent – the 19th consecutive month with year-over-year increases.
August orders, while helped somewhat by summer dealer incentive programs, were the strongest for the month since 2005. Class 8 orders for the latest six month period through August annualize to 316,000 units.
"The strength of August orders was not broad-based; and the volume is not as positive as it appears because orders were driven, in part, by dealer incentive programs," Don Ake, FTR Vice President of Commercial Vehicles, says. "Regardless, business activity remained healthy in August and the Class 8 market is still robust coming out of the summer season. Order volume was consistent with the FTR forecast."
Over the course of the past twelve months, ACT Research says NA Classes 5-8 net orders have totaled 531,500 units, an improvement of 90,000 units compared to the preceding 12-month period.
"At 25,400 units (ACT's preliminary estimate), August marks the third consecutive month of atypically robust orders for Class 8 at a time of the year when orders are usually soft," says Kenny Vieth, ACT's President and Senior Analyst. "This ongoing strength is in line with continued reports of rising freight volumes and healthy freight rate gains for truckers. Seasonal adjustment pushes the month's order volume to even higher."
August's preliminary 17,700 NA Classes 5-7 net orders represented the best medium duty vehicle order volume since April, up 12 percent from July, "but was also the fourth consecutive miss compared to year-ago volumes," adds Veith, "dropping 4 percent compared to August 2013."