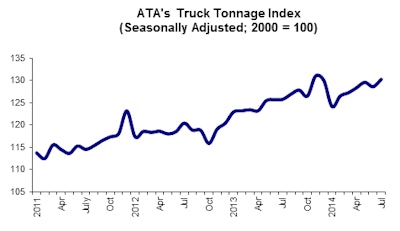 Truck tonnage as measured by the American Trucking Associations' For-Hire Truck Tonnage Index rose 1.3 percent in July, pushing the index closer to November 2013's all-time high.
The index reading was 128.6 percent, ATA says, on an advanced seasonally adjusted basis, putting it 0.6 percent below November 2013's reading.
Year over year, the index was up 3.6 percent from July 2013, besting June's 2.3 percent year-over-year gain. July's year-over-year difference was the largest in three months.
Year-to-date, the index is up 2.9 percent compared to the same time period last year.
"After a surprising decrease in June, tonnage really snapped back in July," said ATA Chief Economist Bob Costello. "This gain fits more with the anecdotal reports we are hearing from motor carriers that freight volumes are good."
Tonnage is up 4.9 percent since hitting a recent low in January, Costello said.
"The solid tonnage number in July fits with the strong factory output reading and a jump in housing starts for the same month," he said. "I continue to expect moderate, but good, tonnage growth for the rest of the year."