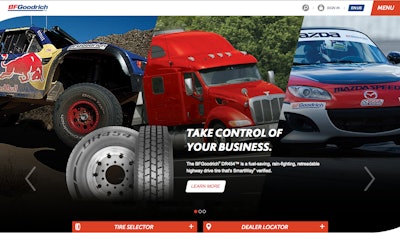 BFGoodrich Truck Tires has redesigned its website with the help of its customers who were asked what features would be most valuable to help them better manage their business.  The result is a more interactive and user-friendly website that provides quick access to the site's tools that include an tire selector and dealer selector. 
The information on BFGoodrichtrucktires.com can be shared via social sites such as Google+, Facebook, LinkedIn or Twitter.  Content is formatted for mobile devices, and a new feature allows customers to create an account and save dealer and tire information, as well as access frequently used reference materials.
"BFGoodrich Commercial Truck Tires have a proud history of helping American truckers take on our nation's highways and by-ways every day," said Donna Murphy, business segment manager for BFGoodrich Commercial Truck Tires.  "Now our customers will have the pertinent information they need at their fingertips on the road and at their computers helping them take control of their day-to-day business."
Major upgrades to the new site include a tire selector that has been completely redesigned to include more of the information customers asked for and a search feature that finds the right tire. In addition, the product lineup option gives a quick glance at the entire BFGoodrich product portfolio, including the recommended and acceptable applications and an image of the tread pattern of each tire, as well as SmartWay verification. Tire features can also be viewed in a side-by-side comparison. The tire details page includes multiple tire images and includes the ability to enlarge the tire to view tread and sidewall details.  Reference materials provide all the resources available including videos, product sheets, warranty information and SmartWay designation (as applicable).
For a new dealer locator, the company's listened to customers who wanted to see the dealer information and map location at the same time. In addition, designers created new user-friendly icons to identify what services dealers offer.  Information can be searched by address, city and state, zip code, even latitude and longitude and then refined to select the dealers with the specific services needed.