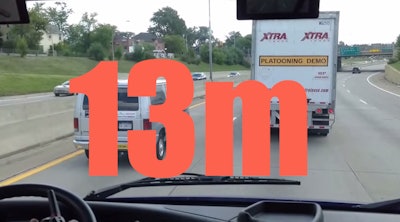 The weekly In Case You Missed It Index features a handful of noteworthy numbers at the heart of recent trucking news.
13 meters: The distance between trucks in Peleton's platooning system, designed to improve tractor-trailer fuel economy by cutting down on aerodynamic drag.
$42: Wal-Mart's pay for a 10-hour driver layover period. A class action suit in California contends drivers should be paid at least minimum wage for those periods.
1993: The original deadline set by Congress for FMCSA to produce a truck driver training rule. The agency is now being sued for its inaction.
$1,620,000?: What the minimum level of liability insurance for carriers would be today, if it had been adjusted for inflation since the mid-1980s when it was set at $750,000. A new rule changing the minimum is expected in October, but the amount has not been released.
$9,500,000: The amount Hub Group estimates it will spend to settle lawsuits brought by drayage drivers in California who contend they were misclassified as independent contractors. Hub Group has changed its operating model in the state, converting the contract drivers to employees.