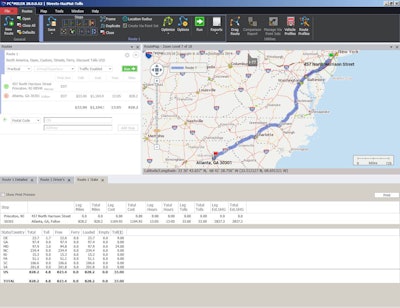 Omnitracs and McLeod Software announced new integration capabilities. Fleets utilizing McLeod Software's LoadMaster Enterprise product and Omnitracs' Mobile Computing Platforms (MCP) have additional integration points for the Omnitracs Driver Workflow application and Optimized Fuel Stops.
"Omnitracs is committed to delivering seamlessly integrated solutions that offer greater asset visibility and operational intelligence to address fleets' most pressing safety, regulatory and productivity needs," said Dan Speicher, chief technology officer at Omnitracs. "These new integrations with McLeod will enable our shared customers to leverage enhanced functionality to further streamline fleet operations."
Omnitracs Driver Workflow Application to McLeod LoadMaster— this integration for Omnitracs Mobile Computing Platforms 50, 110 and 200 improves management of load assignments, the companies said. Fleets can deliver the right information to the right driver at the right time, which can reduce expenses, improve productivity, and let drivers focus on safety and customer service.
Omnitracs Driver Workflow Application with Optimized Fuel Stops—this integration lets fleets using McLeod LoadMaster Enterprise integrated with ProMiles or IDSC Expert Fuel or IDSC Match Advice and the Omnitracs Driver Workflow application to provide optimized fuel stops within the provided route stops for a workflow trip plan. This provides more efficient information for the driver and maintains route consistency supporting fleets' defined fuel programs allowing "along route" fueling, the companies said.
"McLeod Software and Omnitracs have collaborated for many years, offering our shared customer base cutting-edge functionality to improve the driver's in-cab experience," said Robert Brothers, manager of product development at McLeod. "The new enhancements will give our customers value-added capabilities when it comes to improving productivity, efficiency and load profitability through availability of detailed and accurate information."
Omnitracs is a provider of fleet management solutions to transportation and logistics companies. McLeod Software is a provider of transportation dispatch, accounting, operations and brokerage management software, and document management systems.