At TMW Systems' annual TransForum user conference and exhibition, David Wangler compared the fast-growing software company to a truckload carrier.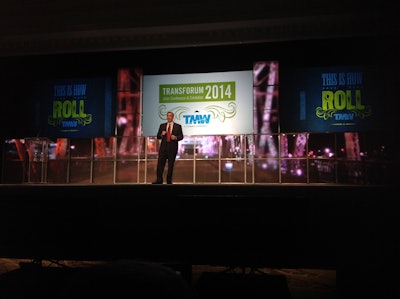 In today's world, a carrier needs transportation management software (TMS) and onboard computers to grow beyond 50 trucks. Once it exceeds 100 trucks, its people need distinct roles and additional technologies to weed out inefficiencies. To surpass the 1,000-truck mark, it needs business analysts to develop and execute strategy from the mounting volume of data.
At this point the company is managing so much information and activity that its "organizational momentum becomes both an ally and a foe to further growth," he said. "The momentum that is driving revenue production also makes it hard to respond quickly to new and different market opportunities."
All along the growth curve, keeping in touch with the organization's most valuable assets — the drivers — becomes more difficult even as it grows in importance.
"In any business — as you grow, you will have to realign resources and invest in new ones to enable you to adapt and respond to market demands. This is exactly what we are doing at TMW Systems today," said Wangler, president of TMW. "Like you, TMW is now reaching milestones that require us to change the way we look at and run our business."
Between 2006 and 2011, TMW Systems acquired five software companies. In 2012, Trimble purchased TMW. The company's rapid rise, whether through acquisitions, organically grown customers, or both, was evident at TransForum on Sept. 21-24 in the Gaylord Opryland hotel and convention center. Attendance was a record 1,900. For the first time in the history of TransForum, TMW was turning down late registrants due to capacity.
The main announcement at the event was not the latest version of software but of the company itself. Company executives call the new iteration TMW 3.0.
"We've taken a keen focus on improving the support experience. We want to make it better," said Rod Strata, executive vice president of operations, who joined TMW last year. The mission for TMW 3.0 also is to improve the user experience and inter-operability of its software. As part of the project, the company has created a product management group to align the delivery of its software more closely with the developing business needs of customers.
As for what type of user experience to expect, Wangler drew a comparison to the way tablets and mobile phones have transformed expectations of how technology should work. "You expect a user experience that guides you in understanding the app, one that presents information in a logical way that applies to what you need to do at that moment," he said.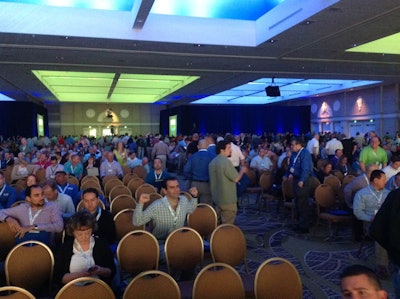 "Our goal is to enable a new customer to start working with their TMW enterprise software within hours of installation because it has been pre-configured to employ the best practices for their type of business."
TMW is also taking a more prescriptive approach to meet its customers' needs. Rather than asking customer "how do you want to do it?" Strata said customers are asking for TMW to take the lead with its collective experience in transportation technology and implement best practices.
New Products
TMW Systems made several new product announcements at TransForum. A new mobile app for dispatchers and load planners called TMW Go will be available soon for both Apple and Android devices. It will give users instant access to load status and order summary information viewable on a map from ALK Technologies.
The ALK Web maps are in other TMW software products like IDSC TripAlert to view operational information. The maps feature real-time weather and traffic layers.
Additionally, companies that use the TMWSuite enterprise TMS platform have a new user interface option called TMW Operations. For the past 15 years, TMWSuite has been developed with the PowerBuilder framework. This approach left users toggling between different TMW applications to enter orders and move freight. These separate applications include file maintenance, order entry, dispatch, rating and system administration.
By comparison, TMW Operations is written in the modern Microsoft .NET framework and offers a cleaner, more customizable display. File maintenance, the dispatch planning grid and the order entry applications are no longer separate; all three have been combined into one screen with a tabular layout.
"(TMW Operations) makes a dispatcher's job easier," explained LeAnn Snyder, who works as a lead trainer for TMW. Another useful tool in the new interface is a "company planner and trip planner" board. The board has five cells for users to create, or rather subscribe to, data elements and build a custom planning worksheet. One of these cells can present operational data on an ALK Web map.
Full-service transportation
One of the major announcements at the show was the new partnership between TMW Systems and a company named 3G-TM. The two recently began working together to meet the growing demand from both asset and non-asset companies to offer comprehensive logistics services.
"It makes little difference whether these service providers are in-house transportation departments, dedicated carriers, non-asset logistics outsourcing, or true fleet operators. It is essential for all of them to be connected in some way with a truck and a driver to deliver that service," Wangler said.
TMW offers multiple TMS platforms for asset-based carriers and brokers. With the complimentary 3G-TMS platform, TMW's carrier and brokerage customers can take on more freight from their own shipper customers and prospects.
The 3G-TMS platform is designed to continuously optimize the service and cost parameters of shipments and deliver visibility to the end customer no matter what trucks power the loads — company-owned or third party.
The vision for the partnership is to enable transportation companies to manage all of the shipments from their customers within the native dispatch system — TMWSuite, for instance. Incoming orders are optimized by 3G-TMS and sent to TMWSuite for dispatch using company assets or third-party assets for brokered loads.
Ultimately, in the end, it is the people more so than the technology that makes it possible for TMW to meet the demands of customers and the complexity in marketplace, Wangler said.
"We have great people at TMW. We are adding more of them every month and we have confidence in their abilities to grow with you," he said.  "Like our customers, TMW is committed to the transportation industry for the long haul, wherever the road may take us."
In case you missed it, click here to view a photo gallery of the TMW TransForum conference.