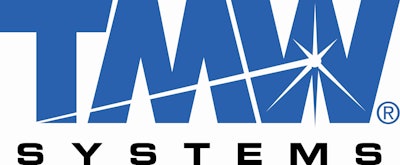 Trimble on Monday, Aug. 27, announced that it has entered into a definitive agreement to acquire privately-held TMW Systems Inc., a provider of enterprise software to transportation and logistics companies, for $335 million.
The announcement comes one year after Trimble acquired PeopleNet, a provider of onboard computing and mobile communications. Following the acquisition, PeopleNet founder and chief executive officer Ron Konezny became general manager of Trimble's worldwide Transportation and Logistics Division.
As with PeopleNet, TMW Systems will continue to operate as an independent entity in Trimble's T&L division. "Being part of the same team will give mutual customers tighter integration, more efficiency and more powerful data and analytics," Konezny said.
Discussions for the deal began in late spring 2012. TMW Systems said it had a number of parties interested in buying the company from its private equity ownership, but Trimble looked to be the best fit. TMW's enterprise software already integrates with Trimble's T&L solutions, which include PeopleNet's onboard computing and mobile communications platform and GEOTrac, a platform used in the oil and gas distribution industry.
With the acquisition of TMW, Trimble's T&L division will jointly serve more than 3,000 fleets around the world. "TMW, PeopleNet and Trimble share a powerful cultural alignment," Konezny says. "We want to do what the customer can get the most value out of. TMW has shown that time and again — ultimately what they do is to improve customers' businesses."
TMW's transportation software platform serves as a central hub from which the core operations of transportation organizations are managed, data is stored and analyzed, and mission-critical business processes are automated. The company's software capability spans the entire surface transportation lifecycle to deliver visibility, control and decision support for the intricate relationships and complex processes involved in the movement of freight.
Trimble's global presence will provide a strong channel for extending TMW's reach and scope beyond North America, said David Wangler, TMW's president and CEO. In the meantime, Wangler said, the acquisition will not result in any changes for customers.
"All offices remain open, and the management team stays onboard," he said. "We hold ourselves to a high standard for growth, and we expect Trimble to do the same. We look forward to becoming a part of Trimble and providing our customers a comprehensive and integrated end-to-end solution for transportation management."
While TMW Systems and PeopleNet are both owned by Trimble, the integration and relationships the two companies have with other vendors will not change.
"We continue to have solid relationships and customer bases with all of the key TMS providers, including TMW, and believe the Trimble acquisition of TMW will not change that and TMW will continue to support the unique, integrated value we have developed through the years of working together—ultimately acting in the best interest of our joint customers," said Norm Ellis, vice president of sales, services and marketing for Qualcomm Enterprise Services.
TMW Systems, based in Beachwood, Ohio, has 500 employees and has achieved double-digit growth for the past two years. Its reported trailing 12-month revenue is about $96 million. TMW will be reported within Trimble's Mobile Solutions segment along with PeopleNet.
The transaction is expected to close in the fourth quarter, subject to customary closing conditions. Trimble expects the acquisition to be accretive to its 2013 non-GAAP earnings per share by $0.12 to $0.14 per share.
With offices in Cleveland, Dallas, Indianapolis, Nashville, Oklahoma City, Raleigh and Vancouver, TMW currently serves more than 2,000 customers managing more than 500,000 power units and maintaining more than 1.7 million assets worldwide, including North America, Europe, China and Latin America. Before being acquired by Trimble, TMW Systems made a number of acquisitions of its own: Maddocks Systems, IDSC, TMT Software, Innovative Computing Corp. and Appian Logistics.