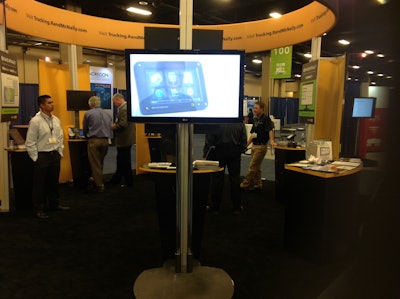 At the TransForum conference, Rand McNally announced the availability of its latest product integration with TMW Systems, Inc.
Data provided by Rand McNally's line of mobile fleet management devices – including the TPC 7600, TND 760 and HD 100 – is accessed through the TMT Fleet Maintenance software, allowing fleets to proactively manage maintenance with real-time details such as vehicle fault codes, and location of the vehicle. Rapid response to a maintenance issue and management of a repair through to completion enables fleets to keep loads moving safely, with minimal downtime.
"Rand McNally's mobile fleet management devices provide critical information that enables our fleet customers to proactively manage their repair processes, maximize warranty recovery, and analyze repair trends across their fleet," said Mike August, senior vice president and general manager, asset maintenance software, TMW Systems, Inc. "This new integration with Rand McNally allows our joint customers to leverage mobile fleet management investments they have already made to address additional business challenges."
TMT Fleet Maintenance, an equipment and shop management software system, helps manage preventive maintenance schedules, parts inventory, fuel and tire usage, mechanic productivity and more.
Details from the Driver Vehicle Inspection Report (DVIR), provided by Rand McNally's devices, are used to create Inspection Tickets within the asset management software. An Inspection Ticket is tracked throughout the repair process, providing cost estimates, and generating warranty information.
Additionally, TMT Fleet Maintenance users may evaluate fuel and tire usage and repair, as well as costs per mile throughout a fleet, based on odometer readings provided via the Rand McNally devices.