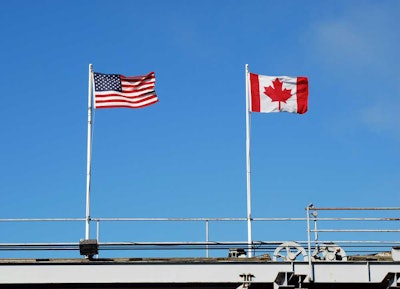 The amount of freight moved between the U.S. and North American Free Trade Agreement partners Canada and Mexico topped $100 billion for the fifth straight month in July, with trucks moving 60 percent of that and carried month-to-month and year-over-year growth.
In its monthly NAFTA trade report, the Department of Transportation reported total trade between the U.S. and Canada and Mexico to be $101.1 billion. Trucking moved $30.5 billion in exports and $29.3 billion in imports, the DOT says. Surface trade as a whole — trucking, rail and pipeline — moved 82.4 percent of the freight traded between the U.S. and its NAFTA partners.
Trucking carried 8.5 percent more NAFTA freight in July 2014 than the same month the previous year, according to the DOT report.
In trade with Canada, trucks moved 52.7 percent of the $55.2 billion in freight, an 8 percent increase from the same month in the previous year.
In trade with Mexico, trucks carried 66.9 percent of the $45.9 billion in freight, an 8.8 percent increase from July 2013.