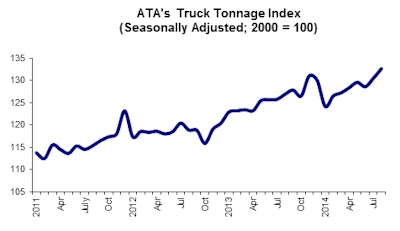 Tonnage carried by the for-hire trucking industry rose 1.6 percent in August, as measured by the American Trucking Associations' seasonally adjusted For-Hire Truck Tonnage Index, pushing the measure of freight movement to its highest reading on record, 132.6.
August's increase follows a 1.5 percent increase from July and puts the index up 4.5 percent from the same month last year.
Year-to-date, tonnage is up 3.1 percent, ATA says.
ATA Chief Economist Bob Costello says the increases come despite factory production and housing starts falling in recent months.
"Truck tonnage actually did the opposite" of those two economic indiciators, Costello said. "Not only did it increase, it accelerated. I'm optimistic about the second half of the year for the economy, which means truck tonnage should do well too."
Tonnage is 6.8 percent from hitting a recent low in January, Costello added.
ATA calculates tonnage based on member surveys.