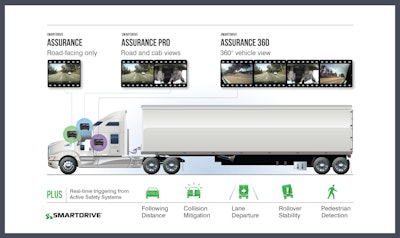 During the American Trucking Associations annual management conference, held in San Diego on Oct. 4-8, SmartDrive Systems, a provider of video-based driving performance systems, announced new camera configuration options to obtain a 360-degree view of the vehicle.
The company says its new SmartDrive Assurance product line can be tuned to the risk priorities and specific fleet operating environments of fleets. Its road-facing video safety program is upgradeable to include the cab view and integration to additional cameras.
With SmartDrive Assurance, fleets can now select from packages that target their specific risk areas. Fleets have access to a safety program, open platform technology with real-time triggering from Active Safety Systems, integration to a third and fourth camera, and a dedicated customer success team.
"The SmartDrive Assurance product line was designed with a simple idea in mind: not all fleets are the same," says Steve Mitgang, CEO of SmartDrive. "We understand that every fleet requires a technology platform that fits its business today and can evolve well into the future."
SmartDrive's Assurance product line includes:
SmartDrive Assurance Pro:
Designed for fleets focused on maximum protection and risk prevention with interior and road-facing cameras and an integrated safety program that identifies great driving, captures collisions and the full range of risky driving skills and associated root causes that lead to collisions.
SmartDrive Assurance:
Designed for fleets that want to implement a video-based safety program but choose to start with a road-facing only camera, the package focuses on capturing collisions, exonerating drivers when not at fault, and identifying high-risk driving such as speeding, stop sign compliance and U-turns.
SmartDrive Assurance 360:
Delivers the most coverage for different types of collisions and risk with an 'up to four camera' deployment configuration. With an expanded view in and around the vehicle, fleets can focus on compliance-related risk as well as their most frequent types of collisions, including those caused by backing, unintended lane changes, roll-overs and close following from passenger vehicles.
This unprecedented level of coverage is made possible by integrating other on-board cameras, such as blind-spot and backing cameras, with the SmartDrive system.
Fleets have the option to integrate any package with on-board Active Safety Systems, including collision mitigation, following distance, lane departure warning systems, roll-stability control and more, generating more value from existing safety investments.
[local /files/2014/10/Assurance_Overview_720.wmv]