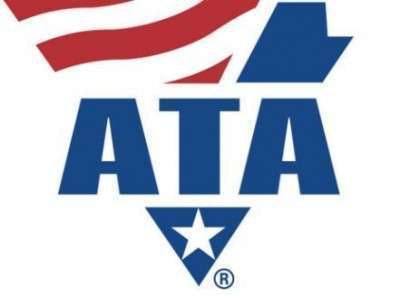 Leaders in the trucking industry were recognized for their contributions at the American Trucking Associations' Advocacy and Government Affairs Luncheon during the 2014 ATA Management Conference & Exhibition.
Aaron Tennant, president and CEO of Tennant Truck Lines, and Barry Pottle, CEO of Pottles Transportation, received ATA's Truck PAC awards for contributions to the federal election fund and service to raising the visibility of the trucking industry at the federal level.
Individual winners of the Mike Russell Trucking Industry Image Award were Mike Card, past ATA chairman and president of Combined Transport, and Kevin Burch, executive vice chairman of ATA and president of Jet Express. Other Mike Russell Award recipients included Great West Casualty Company for its contribution in developing the Trucking Moves America Forward movement, and the Texas Trucking Association for its commitment to spreading the word about trucking's essential role in the economy and safety initiatives.
Trucking Associations Executives Council award recipients, who have a combined 125 years of service, included:
·         Bob Farrell, executive director of the Automobile Carriers Conference, 30 years;
·         Bob Sculley, president of the New Hampshire Motor Transport Association, 25 years, and 10 years of service as executive director of the Vermont Truck & Bus Association;
·         Dale Bennett, president and CEO of the Virginia Trucking Association, 25 years;
·         Dave Huneryager, president and CEO of the Tennessee Trucking Association, 10 years;
·         Larry Johnson, president of the Nebraska Trucking Association, 10 years;
·         Curtis Whalen, executive director of the Intermodal Motor Carriers Conference, 10 years, and;
·         Louis Campion, president and CEO of the Maryland Motor Truck Association, 5 years.