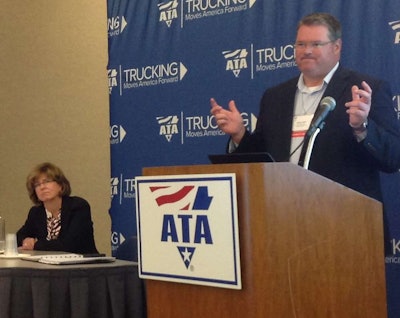 Innovation, return on investment and trust are all part of a two-year-old partnership between asset-tracking specialist Spireon and Premier Trailer Leasing, Inc., one of the largest trailer leasing companies in the U.S., the companies explained at the ATA Management Conference and Exhibition.
Partnering with Spireon has helped Premier grow its business through optimized fleet performance enabled by Spireon's scalable FleetLocate Asset and Trailer Intelligence solution.
Premier's customer base has grown 30 percent over the last two years, and the company cites its strong relationship with Spireon as key to this increase, explained Larry Hall, Premier's executive vice president. In addition, Premier has seen the adoption of trailer tracking increase nine fold over the same timeframe.
"We have always been on the cutting edge of technology, knowing that our customers would find immense value in being able to monitor in real time the status of their load," says Hall. "Spireon help us provide our customers three things they can't get anywhere else: rich data that is far superior to what they could find elsewhere, continuous real-time updates and the ability to geofence."
Talon Logistics, a Louisville, Ky.-based third-party logistics company, uses equipment from Premier integrated with the FleetLocate solution from Spireon. Using the combined solution allows Talon Logistics to provide customers with instant estimated time of arrival, quicker loading and unloading times, and geofencing for increased load security.
"Premier with FleetLocate has given us a distinct advantage in the market," says Brandon Briscoe, vice president of sales and operations for The Talon Logistics.
Network. "We are hauling more freight than ever before with fewer trailers. While I haven't done a formal ROI, I can tell you that we would not be able to do this without real-time updates from FleetLocate."
Premier has become a valuable sales channel for Spireon as others see its success and want to replicate, explained Roni Taylor, Spireon's vice president of industry relations.
"With the partnership between Spireon and Premier, the customer is truly the winner," says Taylor. "On top of our state of the art integrations, we are working together to continuously innovate and provide customers with the best solution."