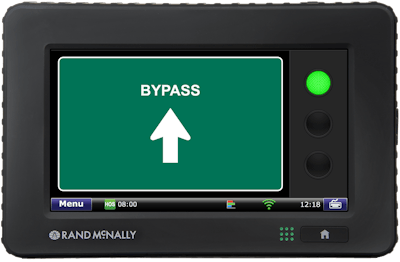 Drivewyze announced at the American Trucking Associations Management Conference and Exhibition, held in San Diego Oct. 4-8, that the Drivewyze PreClear weigh station bypass application is now available on Rand McNally's TND 760 mobile fleet management devices.
Drivewyze PreClear is a cloud-based service to alert drivers 2 miles before approaching a site, affording fleets the opportunity to earn up to a 98 percent weigh station bypass rate, depending on their safety records. Each bypass saves an estimated $8.68 in driver time, vehicle operation, and fuel.
The weigh station bypass application comes with a complimentary weigh station cost-analysis tool, nationwide Weigh Station Heads Up notifications that provide real-time information for 740 weigh stations and inspection sites, and a PreClear bypass service subscription option.
"Fleets can take full advantage of the time savings available with mobile-based weigh station bypass on Rand McNally's fleet management and compliance system," said Brian Heath, president and CEO of Drivewyze.
Drivewyze recently completed a beta test with Rand McNally's TND 760 fleet customers. Fleets that used the Drivewyze Analytics loss reporting tool were able to determine how much the PreClear service would save them when activated. The analysis tool calculates the real costs of unplanned delays at weigh stations.