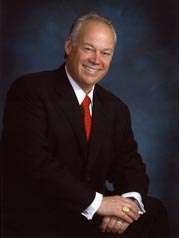 Duane Long, chairman of Longistics, of Raleigh, N.C., has been elected the 70th chairman of American Trucking Associations.
"I am honored that my fellow ATA members have shown tremendous faith in me to trust me with such a remarkable opportunity," Long said. "Our industry and our association are both poised for great things in the coming years and I'm humbled to have been chosen to lead ATA through this time."
ATA President and CEO Bill Graves cited Long's "energy and enthusiasm."
"I have great faith in Duane and tremendous confidence that he will be an outstanding chairman," said Graves.
Long replaces Phil Byrd, president of Bulldog Hiway Express, Charleston, S.C., as chairman. The change became official at the ATA Management Conference and Exhibition this week in San Diego.
"This past year has been the experience of a lifetime for me and my family," Byrd said. "I'd like to thank the ATA staff, the state association executives and my fellow industry executives for all you've done to make these past 12 months so remarkable and to wish Duane the best of luck. I believe he'll be an excellent representative of our industry."
Long and his wife, Pat, started Longistics in 1984. He has served as chairman of the Greater Raleigh Chamber of Commerce, and serves on the board of the Research Triangle Regional Partnership, the North Carolina China Center and serves as the Board's Chairman for the North Carolina Railroad Company.