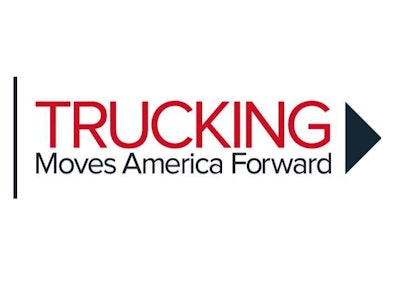 Trucking Moves America Forward has reached over 80 percent of its $1 million fundraising goal, representatives of the industry-wide image-building campaign reported Tuesday at the American Trucking Associations annual MC&E conference.
The initiative – launched in March at the Mid-America Trucking Show – aims to inform policy makers, motorists and the public about the benefits of the trucking industry and to help build a groundswell of political and grassroots support to strengthen and grow trucking.
"To be at 80 percent of our goal already is a remarkable achievement," said Kevin Burch, vice chairman of TMAF and president of Jet Express, speaking at a "state of the movement" press conference. "We've made concentrated efforts to lay the foundation of a groundbreaking movement within the industry and are excited about reaching our one million dollar goal. We've had a great start, but the best is yet to come for TMAF."
Companies who have contributed significant financial donations include Pilot Flying J, Allied Committee for the Trucking Industry, ATA, Old Dominion Freight Lines, Love's Travel Stops, Great West Casualty Company, Trucking Associations Executive Council and Jack Cooper Transport.
Among the highlights to date:
A $1.25 million, five-year commitment from Pilot Flying J; held press conference at Newseum in Washington D.C.
Sponsorship on the Love's Travel Stop and Pilot Flying J NASCAR race cars
More than $2 million in-kind financial contributions, including Randall Reilly and Transport Topics
Over one million advertising impressions due to in-kind donations from Overdrive Magazine, Commercial Carrier Journal, MAXIM, Transport Topics and Heavy Duty Trucking; and
Presence at ATA's Annual Management Conference & Exhibition, Mid-America Trucking Show and Great American Trucking Show.
TMAF coverage has generated more than 25 million impressions on news media outlets, according to the group. It has also launched a full and interactive movement website with more than 1,800 subscribers and created a new social media channels that have grown organically throughout the year:
Facebook: More than 1,700 page "LIKES"
YouTube: Four videos on YouTube with more than 19,000 total views
Twitter: Nearly 600 followers
In addition to the financial contributions, TMAF has garnered support from industry leaders such as Owner-Operator Independent Drivers Association and Truckload Carriers Association.
To join the movement, go to www.truckingmovesamerica.com.
[youtube _MvX-g1fM34 nolink]