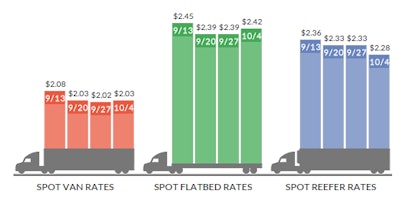 Spot freight availability rebounded 1.5 percent last week, according to DAT's analysis of the market for the week ending Oct. 4. National average rates for vans regained a penny, flatbed rates rose 3 cents and reefer rates declined a nickel, compared to the previous week.
The national average rate for vans was $2.03 per mile, says the latest DAT Trendlines update. Rates have remained above $2.00 per mile for most of 2014.
Van freight availability surged 5 percent last week, and truckload capacity declined 5 percent, driving the load-to-truck ratio from 3.0 to 3.3, national average.
Flatbed rates climbed to $2.42 per mile, despite declining load volume. Demand remains strong for flatbeds in key markets, including Houston and Memphis, where rates are elevated for the season, the report notes.
Load availability for flatbeds lost another 3.5 percent last week, and capacity added 1.9 percent, yielding a 5.3 percent decline in the load-to-truck ratio. The ratio landed at 27.8 loads per truck, which may herald the start of the "off season" in this high-demand segment, the DAT analysis suggests.
The national average rate for reefers fell to $2.28 per mile. Rates were stable in Central California, despite increased volume. Outbound rates rose in Twin Falls, however, a typical trend in Idaho's potato season.
Reefer freight availability rebounded 6.1 percent last week and capacity slipped 5.9 percent, so the load-to-truck ratio rose 13  percent to 9.9. That ratio indicates strong demand in the refrigerated segment, with week-over-week increases in Chicago and Fresno, the report says.