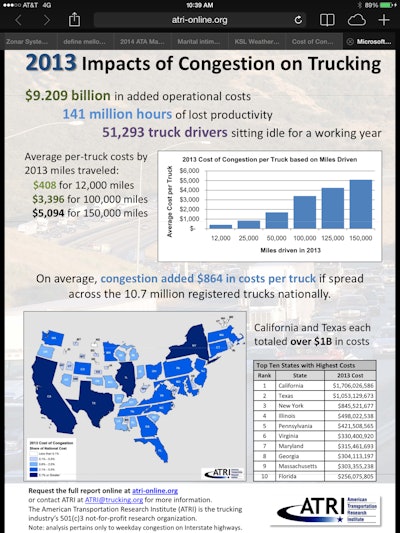 AT&T announced a new portfolio of fleet management products at the American Trucking Associations' annual MC&E conference, held Oct 4-7 in San Diego.
AT&T supplies the voice and data cellular network used by many telematics and machine-to-machine (M2M) systems in the transportation industry and now offers its own brand of fleet products.
Collectively, the products are called AT&T Fleet Management Solutions. The bundle consists of Fleet Driver Center, Fleet Complete, Fleet Manager and Fleet Center. Each one is designed to meet specific mobility needs for every sector in the transportation industry from government to commercial fleets with light, medium and heavy-duty trucks, says John Moscatelli, AT&T's industry director, transportation.
AT&T also announced Cargo View, a small M2M device with global GSM/GPRS connectivity to remotely monitor cargo conditions during transportation in any mode. The device can monitor temperature, light and other conditions along with tracking location.
When tracking air freight, Cargo View has a FlightSafe feature that will automatically transition the device to airplane mode to be FAA compliant and preserve battery life. AT&T is working to launch a reefer monitoring system with WAM Technologies that will have two-way visibility and control of reefer units, Moscatelli said.
Besides announcing an expanded fleet portfolio, AT&T discussed how a major motor carrier, Saia LTL Freight, is using an AT&T suite of mobile technologies called AT&T Advanced Mobility Solutions to simplify its work processes and save money.
Saia's drivers use rugged handheld computers to connect with dispatch managers and fleet operations. Additionally, the AT&T wireless network is embedded in Saia's vehicle computers to provide updates on fuel consumption, driver and engine performance and electronic driver logs.
Saia has also embraced Wi-Fi technology to better manage its terminals. AT&T's Multiprotocol Label Switching (MPLS) network helps the company run crossdock functions to keep inventory of freight at various locations. With a fleet of forklifts and other specialized equipment, dockworkers and quality assurance managers can verify the classification of freight that is moving through Saia's 147 terminals nationwide.
AT&T also supplies Saia with connectivity for other mobile devices like smartphones, laptops and tablets using secure VPN technology.
"We transport goods for the retail, chemical and manufacturing industries throughout a 34-state network," said Mark Robinson, chief information officer of Saia LTL Freight. "AT&T gives our drivers and dispatch managers the on-the-go tools needed to be more efficient, at the office or on the road. We can better serve our customers and keep a competitive edge for many years to come."