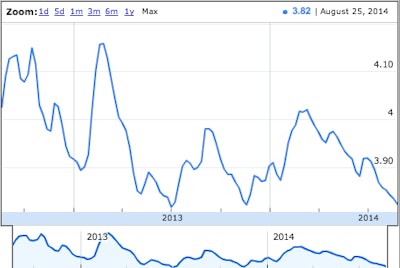 The national average price for a gallon of on-highway diesel fell 4.2 cents in the week ended Oct. 20 to $3.656, according to the
Department of Energy's weekly report
, marking the 16th week in a row without an increase.
The price of diesel has now fallen every week since the first week of the July, save for a week with no change in early September. It has fallen 26.4 cents in that time period, reaching its lowest price point since mid-July 2012. This week's drop was also the largest since April 2013 and was down 23 cents from the same week last year.
The DOE forecasts the trend to continue into the fourth quarter, too.
All regions in the U.S. also saw price drops, led by a 6.4-cent drop in the New England region, followed by a 6-cent drop in the West Coast less California region and a 5.6-cent drop in the West Coast with California region.
The California subregion still had the country's most expensive diesel, $3.913, followed by the West Coast's $3.835, the West Coast less California's $3.742 and the Rocky Mountain region's $3.738.
The Gulf Coast reclaimed its spot as having the cheapest diesel with its $3.589, followed by the Lower Atlantic's $3.590 and the Midwest's $3.606.