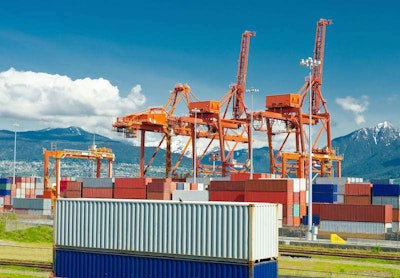 American Trucking Associations and more than 100 organizations representing "manufacturers, farmers and agribusinesses, wholesalers, retailers, importers, exporters, distributors, and transportation and logistics providers" have signed a letter calling for a quick conclusion to labor negotiations between dockworkers and management at the West Coast ports.
"Many U.S. and Canadian stakeholders we represent are already experiencing severe negative effects of delayed shipments," the letter says. "This situation will soon start to have a broader negative impact on the U.S. and broader North American economies."

The letter notes that there has been no "visible progress" in contract talks since August, when the International Longshore and Warehouse Union and the Pacific Maritime Association announced a tentative deal on health benefits. Both sides have reportedly remained at the negotiating table, although a media blackout has meant outside parties can't know where the negotiations stand.
"The financial and economic situation for thousands of importers and exporters who rely on the West Coast ports, and their millions of employees and business partners, rest on the timely conclusion of a new port labor contract," the letter says.
The plea cites growing congestion problems at the ports and emphasizes that "time is of the essence."
"We are now at a point where a new contract must be finalized soon in order to allay growing concerns of thousands of businesses who rely on West Coast ports for orderly and timely supply chain operations," the groups write.