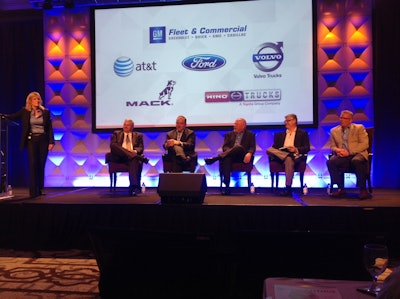 "Connectivity" may not be your top concern when buying a work truck. Like most fleet owners and executives, saving fuel, maximizing cargo capacity and resale value may take precedence.
On closer inspection, the difference in fuel economy for similarly spec'd vehicles is very small, if non existent. Connectivity might actually be the fastest path to savings, considering the need to find ways to do more with less equipment since new trucks cost 30 to 40 percent more compared to only a few years ago.
Manufacturers of commercial vehicles are using connected vehicle technology, in the form of factory-installed telematics platforms, to attract and keep buyers. With this technology, the manufacturer can collect and monitor diagnostics data to help their customers reduce maintenance costs and boost the productivity of their trucks and workers.
OEMs have integrated these platforms with the control modules of their engines and dozens of other components and sensors on the vehicle. Straight from the factory, many vehicles now come equipped with the ability to capture important, location-based event data. Fleets can use this technology to monitor the productivity of their assets in terms of hours worked, the weight of loads, the volume of cement poured or asphalt laid, and many other possibilities.
Telogis has partnered with a number of manufacturers to offer its telematics platform as a factory installed option. This path not only saves fleets time and money for installation, but enriches the value of the information.
"It is not just easier to install these vehicles by having it done at the factory, but you can get so much more access to rich integration," said David Cozzens, chief executive officer at Telogis during the company's annual Latitude user conference, held in Dana Point, Calif., on Oct. 27-29.
[CLICK Here to view a guided tour of the speakers and technology demonstrations at the 2014 Telogis Latitude conference]  
In 2011, Telogis created its first OEM relationship with Ford to provide the Telogis platform as its Ford Crew Chief telematics offering. By partnering with Telogis, Ford could offer customers visibility into day-to-day operations and the performance of Ford vehicles and their own drivers.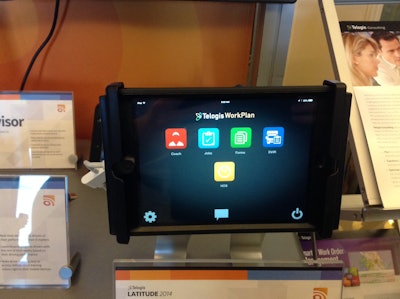 Telogis has since partnered with General Motors, Hino, Manitowoc Cranes, Volvo, Mack and Isuzu to offer factory installed telematics. Last year, the company received significant financial backing from Silicon Valley investors who see Telogis as the company primed for growth in connected vehicle technology.
The Telogis platform is a software as a service, giving the end user the freedom to use any device, including smartphones and tablets, to run its commercial navigation, compliance, telematics, route optimization, work order management and mobile integration services.
The company has more than 400,000 telematics devices in vehicles today and a broad base of customers that operate all types of equipment such as construction and utility work trucks to heavy-duty, over-the-road tractors.
During its first few years in business, which began in 2001, Telogis licensed its hardware and software to larger companies to resell or "white label" as their own telematics products. In 2007, it shifted strategies and began selling directly to fleets and to OEMs.
One of its first customers was Asplundh Tree Expert, a company that provides tree-cutting services to the utility industry. Asplundh started by tracking its vehicles and has since expanded its use of Telogis to manage exceptions for safe driving and productivity across its 32,000-truck fleet.
Scott Asplundh, CEO of the worldwide company, said the platform is being used to track the amount of time its foremen spend on site with workers. Its analysis shows a productivity increase of 22 percent and safety by 69 percent, on average, when foremen spend time on site.
Asplundh is now looking forward to putting tablets in vehicles to run Telogis applications that capture information from drivers and the vehicle to further increase productivity and safety.
"Where we've gone through our partnership with Telogis has really been quite a ride," he said.
During the Latitude conference, Don Butler, the executive director of connected vehicles and services at Ford Motor Company, explained the strategy of connectivity from an OEM perspective. For Ford, connectivity involves three facets: "brought in, beamed in, and built in."
Ford has designed its vehicles to leverage the content, capability and communications of the smartphones and other mobile computing devices that customers bring in to the vehicle. Its Ford Sync interface lets drivers interact with the vehicle and take advantage of the capability on their mobile devices while keeping their eyes on the road and hands on the wheel, he said.
Information is also beamed in to the vehicle through various wireless connections. And, its vehicles can become a node on a customer's network by virtue of having a built in data modem from Telogis to connect the driver and vehicle to specialized commercial applications.
"The key to separating ourselves is the experiences that we enable and deliver as result of technology," he said.
In the longer term, Ford is working towards fully integrated connectivity in terms of vehicle-to-vehicle communications and vehicle to infrastructure. It will also be able to update every control module of the vehicle over the air.
To help put connected vehicle technology into perspective, one of Telogis' founders, Newth Morris, offered up an analogy of using the stereo that comes with the vehicle you buy today versus the car you bought 20 or more years ago.
Today, there is no reason to swap out the stereo system since it can connect with any mobile device you bring into the vehicle to play music. In the past, it made sense to swap out the cassette deck that came with the car to get a stereo system with a CD player and more sound controls.
Likewise, fleets now have a robust connectivity platform that comes with their trucks, eliminating the cost of installing and adding to their vehicles in the aftermarket. What doesn't come from the factory in their vehicles can be quickly brought in through cloud-based software applications.