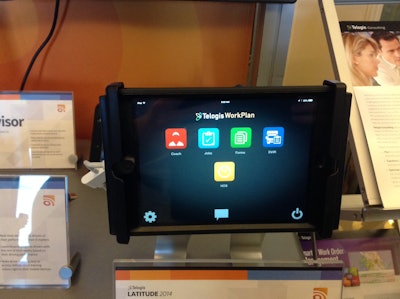 Telogis announced several new products at its annual Latitude user conference, held in Dana Point, Calif., on Oct. 27-29.
Telogis for Field Service
Launched as an industry-specific extension of its connected intelligence platform for field service companies, Telogis says its Field Service applications provide work scheduling and optimization to enable field teams to be more proactive and ultimately service and satisfy customers more easily and efficiently.
The Telogis platform, already used by well-known field service companies worldwide, provides SaaS-based advanced telematics, dynamic routing, commercial navigation, real-time service order management and mobile integration services. The applications for Field Service include service order management, Proof of Delivery (PoD), truck-specific navigation and routing for teams, as well as advanced Plan versus Actual (PvA) to give visibility into whether or not plans were followed and service commitments were met.
Telogis for Field Service also delivers real-time estimated times of arrival (ETAs) and dynamic dispatch that close the loop among the field, the back office and the end customer.
Telogis Sites
Telogis Sites is a new application that integrates with Telogis Navigation and the broader SaaS-based Telogis platform to allow customers to store and share detailed Point of Interest (POI) data in order to improve directions both on the road and on-premise.
The application is designed to capture and utilize information about the unique characteristics of the locations that mobile workers go as part of a job. Telogis Sites makes specific details such as the loading dock vs. front door, the boundaries of the yard, the appropriate access point and most appropriate last-mile approaches for ingress and egress available to drivers, planners and dispatchers.
Telogis Sites also features a new system for tagging locations, define multiple addresses and points of contact making it easier to search and organize key locations and destinations.
"Telogis Sites will transform the way service and supply chain customers plan their routes, approaches and movements on-premise, and it will be a differentiator for them to use with their own customers," said Newth Morris, co-founder of Telogis.
Dynamic Response Suite
Telogis also introduced a new planning suite for service and supply chain customers across multiple industries. The Dynamic Response Suite is an extension of its SaaS-based connected intelligence platform, and includes four modules: Telogis Control Room, Plan vs. Actual (PvA), ETA and Dispatch.
"The Telogis Dynamic Response Suite works in concert with other applications on the Telogis platform to deliver the 360-degree job visibility, better customer service, continuous workflow improvement and the total orchestration of work in the field," Morris said.
Telogis Control Room
Control Room provides real-time visibility into a commercials' commercial vehicles, assets and mobile resources that includes key information that affects how a day's jobs are executed. This information can include real-time traffic, weather and alerts such as when a technician or delivery has arrived late, Gantt chart display of job statuses, warnings and two-way messaging from the back office out to the technician's mobile device.
Telogis PvA (Plan vs. Actual)
Developed to give visibility into how the day's plan has unfolded, Telogis PvA keeps back-office teams informed and responsive to what changes took place. PvA reports can be used to validate if the plan and route were followed, if unnecessary miles were driven, or if time window service-level agreements (SLAs) were met. Live PvA visuals and Insight alerts on the map also give real-time feedback.
Telogis ETA
Telogis ETA module provides the ability to predict the estimated time of arrival while taking into consideration last-minute changes, traffic, weather, Hours of Service compliance constraints, last-mile customizations and any other real-time events.
Telogis Dispatch
Telogis Dispatch provides dynamic and optimized dispatch capability for service and delivery fleets, using the same rules used to create original Route plans, to augment and automate current dispatch operations. With the app, users can dispatch new jobs to already busy schedules and easily make changes to existing routes that reflects immediately on mobile devices, the company says.