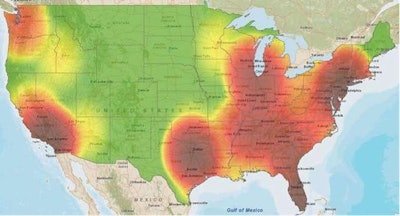 The average loss value per cargo theft incident in the third quarter of 2014 jumped 100 percent from 2013's third quarter to $321,521, while the number of thefts fell, according to the quarterly cargo theft trends report from FreightWatch International.
A total of 208 cargo thefts occurred in the quarter, FreightWatch says, marking a 20 percent decline from the same quarter last year. Seventy occurred in July, 76 in August and 48 in September.
"The average loss-value ceiling continues to rise and illustrated that organized cargo thieves continue to aggressively target high-value freight," according to the report.
Food/drink loads remained the most stolen in the quarter with 35 thefts, 18 percent of the total. Targeted products include meats, nuts and canned and dry goods, FreightWatch says.
Electronics made up the second most-stolen type with 33 thefts, or 17 percent, primarily consisting of televisions, projects, cell phones and accessories. Home/garden loads made up 15 percent (28 thefts), with 46 percent of those loads being appliances.
Building/industrial loads made up 14 percent (27 thefts).
Per usual trend, four states accounted for more than 60 percent of the thefts: California, Florida, Texas and New Jersey.
California had the most, 42 thefts (21.4 percent). Florida and Texas both had 33 thefts, and New Jersey logged 20 thefts.
Theft of trailer/container again made up a big majority of the thefts, accounting for 85 percent, 164 thefts.
Deceptive pickup and facility burglary tied for second with nine thefts each. Theft from trailer/container made up 4 percent, followed by driver theft with 2 percent.
Loads of pharmaceuticals (medication) had the highest average value per stolen load at $2 million, followed by electronics loads' $1.079 million, pharmaceuticals (supplies) at $453, 625 and alcohol/tobacco at $421,407.