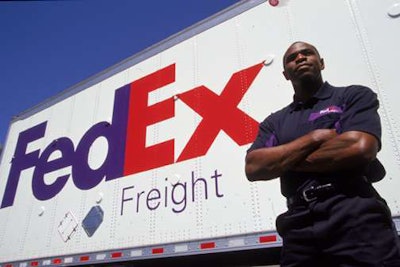 Drivers at FedEx Freight's South Brunswick, N.J., terminal on Friday voted to join Teamsters Local 701. The vote was 66 to 42, according to the union, and the group becomes the second in the company to organize, after drivers in Croydon, Pa., voted to join the Teamsters Oct. 14.
Other campaigns at FedEx Freight and at Con-way Freight are under way across the country.
And the workers' campaigns to join the Teamsters have already paid off, the union notes in a statement.
At FedEx Freight, the company announced an 80-cent-per-hour raise a few days after Local 107 filed for an election, and the company got rid of its "overly punitive" driver scorecard, which gives drivers infraction points for errors, the union says.
Also, after organizing got under way at Con-way, the company announced it would increase truck driver pay by $60 million in 2015, and other improvements.
"The companies are offering pay raises and other improvements at the same time we are organizing, but the workers know that these things can be taken away just as quickly without a legally binding contract," said Tyson Johnson, director of the Teamsters National Freight Division. "The unfulfilled promises that have been made to drivers and dockworkers over the past decade are coming back to haunt management."
FedEx Freight is considering its options, including an appeal, according to a company statement. The company emphasized that the vote affects only the drivers at the Monmouth Junction service center and otherwise "it's business as usual at FedEx Freight."
FedEx Freight also noted that a vote was scheduled for the North Harrisburg service center in Middletown, Pa., but the union withdrew the election petition.
"The union would only have taken this action if it recognized it would not win the election," the statement said.