This is the second part of a three-part series. Click here to read Part 1. Part 3 will be published Friday.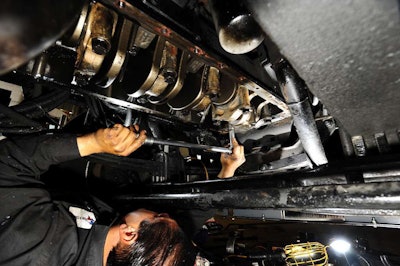 A shift in thinking, a call to action
As if things aren't bad enough, today's trucking industry finds itself on the cusp of another revolution – an exponential leap forward in terms of new technology that will power trucks. Over the next five years, new trucks will begin transforming into rolling computers, while many technicians today aren't able to diagnose and work on current high-tech vehicle systems. Moreover, experts say today's new technicians are being trained on engines and components featuring technology that is 15 to 20 years old – and the problem, it seems, is money.
"We have to start changing both the way we educate technical students today and the subjects we educate them on," Warpness says. "But school is more expensive today, and financial aid for students only goes so far."
The new technology is costly, he says. "Even a basic diesel engine to use as a current teaching aid costs me $30,000 to $50,000 apiece. Thirty years ago, they cost me $2,000. If I wanted to spend $3,000 for an engine, I was in front of my boss explaining why I was spending so much money."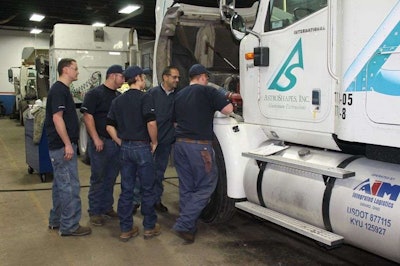 Warpness admits that WyoTech is lucky: It has the funds to acquire the latest diesel engines for students to examine – even if he can't get as many as he needs. Still, he's in better shape than some schools he's visited. "I've seen kids wasting their money to learn to work on old two-cycle engines," he says.
Fleets, dealers and government all have to get involved and invest to solve the problem, McAlexander says. "Technical schools today simply cannot afford to upgrade their teaching aids when a diesel exhaust system costs $5,000 and a heavy-duty natural gas engine costs $95,000, and they're turning out 20 new techs a year," he says.
Further complicating matters, he says, is that the trend toward vertical integration on the OEM side is producing multiple different proprietary vehicle systems, and OEMs understandably are reluctant to share that technology with technical schools. "It would cost millions of dollars today to get a trade school up to speed to teach one captive OEM technology," McAlexander says. "Even then, the student would only know a portion of what they need to be successful in a modern shop. All of this is going on at a time when a base Volvo truck today has between 18 and 21 computer processers on it. Who knows how many will be on the new GHG models when they arrive?"
The sad result, McAlexander says, is that most of today's technical students who graduate with heavy-duty diesel certification are woefully unprepared for the careers they've chosen. "They armed a little better than if they know nothing – but not a lot," he says. "Some of them don't even know how to hook up a diagnostic tool to read the codes off a truck's ECM, and they're not going to learn that until their employer decides they're worthy of being sent to an OEM school to learn today's technology."
Always learning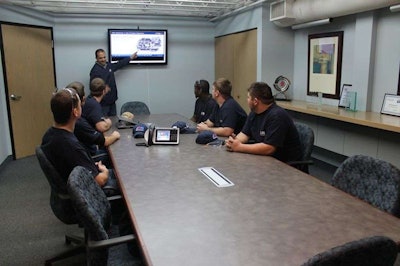 Continuing education for new and existing technicians will be a major part of managing the coming technology shift, but Calhoun says simply sending people off to OEM schools isn't enough – which is why he overhauled the way Truck Centers of Arkansas manages and educates its technician force.
"The basic model for a new technician in a shop today is trial by fire," he says. "We take an individual with aptitude, hire them to fill a need, then drop them into a completely foreign environment and expect them to succeed. We don't work to develop them. We don't communicate with them. We don't instruct them on problem-solving, management or anything. They have to identify and learn those skills on their own, and we wonder why they fail. This is not a system that is going to work in the future given the massive technology changes coming our way.
To help counter this problem, Calhoun instigated a new mentoring program designed to both help new recruits and retain existing ones. "You can't run an ad in the paper today and bring in top-level talent, and you really can't go across the street and steal someone from your competition, because it's going to cost you as much to retrain that guy on your specific OEM equipment as it does to educate a brand-new tech," he says. "It made us really rethink how we go about managing our technicians. Today, we strongly believe you have to grow your own. That's the only answer."
Calhoun's plan revolves around establishing a "Culture of Excellence" that "Promotes from Within," and he says mentoring is key to making that approach work. "We partner our new techs with a mentor to make sure they understand everything about our operation, and that works both ways," he says. "We make sure the mentor understands this is a very important task and that we have high expectations from them as well. We don't want the mentor to feel this is something they have to do in addition to their job. We want them to understand this is a vital part of their job and of crucial importance to our overall success."
All of which brings us back to Dell, who thinks it's time for new thinking in the industry and hopes to help guide it toward some fundamental changes. "What about women?" she asks. "I hear women are outworking men in the shops, and we have to. The first week I was in school, I felt like I didn't belong and that I'd made a big mistake. But this isn't the old days where size and strength are all that matters. Being able to lift a bunch of weight doesn't help you if a computer system is down. I think women should look at this industry as a way to make a good living and not to get discouraged. We can do the work, and this industry needs someone who wants to do the work."
"We need to change our thinking, and we need to take action," McAlexander says. "Waiting around for somebody to solve the problem just isn't working. OEMs have to invest in schools and donate equipment. Fleets and dealerships have to start building relationships and developing talent. Government has to recognize this problem affects all citizens and invest in and help revamp the educational system. That is the only way out of this crisis."
See Part 3 of this series Friday, Nov. 7. Click here to see Part 1.