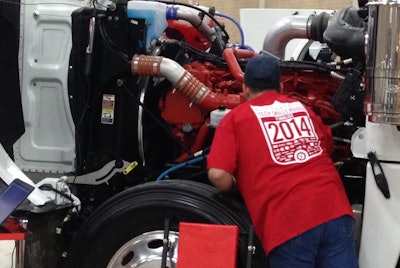 The competition for top technician talent has never been hotter, and with stiff competition comes challenging retention rates.
Pay, obviously, plays a role in getting and keeping techs on staff, but the search for the almighty dollar isn't the only thing under consideration when it comes to the decision to join your company – or leave it.
"If I wanted to go to work for a company, I would like to know what their training program is," says Jonathon Monus, Rush Truck Center – Tyler (Texas). Monus is one of 150 Rush Truck Center diesel techs competing in the company's annual Tech Rodeo in San Antonio this week. "The main thing in advancement within a company is training. If you go work for a company that's not willing to train you or send you to any specialty schools, I really don't see the point in going to work there because there's no advancement in the career."
Technicians who want to advance beyond basic repair services value additional training because they see it as a means to unlock potential for better pay.
"If you don't have any career advancement, you're stuck doing services," Monus says. "You're stuck doing clutches or services and whatnot. The people who strive for excellence, they get moved up to better work."
Monus says he takes upwards of three Cummins classes annually, mixed in with miscellaneous classes along with Peterbilt online classes.
Daniel Roth, also of Rush Truck Center – Tyler, says he, too, has been through three Cummins classes this year.
"(Training) is very important," he says. "It gives you the opportunity to do better at work and make more money."
"Money is definitely a big factor, but having access to training," Kevin Bozarth, Rush Truck Center – Kankakee (Ill.), says of important factors in consideration of joining a company. "That's probably the biggest thing besides money. To have a guy sitting around in a shop that feels like he has no opportunity to learn anything anymore, that's probably one of the biggest things."
Kyle Britt, Rush Truck Center – Champaign (Ill.), says the opportunity for training is important, but so is the company's willingness to make time for it.
"Sometime people want to get training, but their bosses aren't really given the time to," he says. "Rush really pushes for it and makes the time."
"Feeling like I'm keeping up with the times (is important)," Bozarth adds. "I've worked at a few shops in the past where they offered no training at all. After a few years, you start seeing these new trucks come in and you don't even know what's on them. It's tough to try and figure that stuff out by yourself. So it's nice to work somewhere where they care about making sure you're up to date on the latest and greatest."