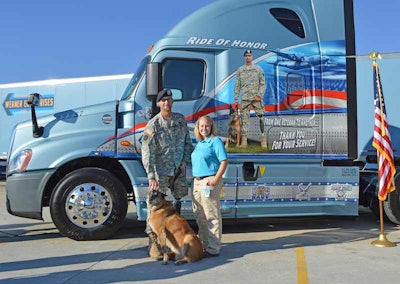 Werner unveiled this week its latest Freedom-themed truck, dubbed Ride of Honor. The truck is the fourth installment in the fleet's Operation Freedom fleet of military-wrapped trucks.
Werner says it released the truck this week to commemorate Veterans Day.
The company held a ceremony at its Atlanta, Ga.-based terminal, where it introduced the truck. Werner driver Felicia Berggren will drive the truck. She is a native of Owensboro, Ky., and has been a Werner driver and trainer for about two years. Her father served in the Army and her brother served in the Navy.
The truck's graphics feature an image of Army vet Brian Miller, who was wounded by a roadside bomb in Iraq. Pictured with him is Tino, an 11-year-old retired member of a K-9 unit that served in Iraq and Afghanistan.