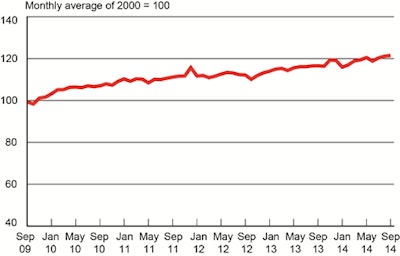 The amount of freight carried by the for-hire transportation industry rose 0.3 percent in September, spurring another all-time high, according to the monthly Freight Transportation Services Index, produced monthly by the Department of Transportation.
August's index reading was also upwardly revised by 0.3 percent.
The growth was caused by growth in U.S. industrial production, manufacturers' shipments and inventories, according to the DOT report.
September's increase rounded out a quarter of growth, coming after two consecutive quarters of small declines. The third quarter of 2014 (capped by September) saw 2.3 percent growth from the quarter prior — the most rapid growth since the fourth quarter of 2011.
The index has increased 28.5 percent since a low in April 2009. The index readings are produced by measures of month-to-month changes in freight shipments by mode of transportation in tons and ton-miles, combined to make the index.