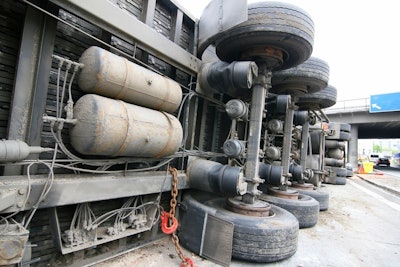 The Federal Motor Carrier Safety Administration announced Nov. 26 it is seeking trucking industry input on a potential rulemaking that would increase the $750,000 minimum amount of liability insurance motor carriers must have.
The agency published an Advanced Notice of Proposed Rulemaking in the Federal Register Nov. 26. The ANPRM is only a solicitation for input from the public and from industry stakeholders and is not a proposed rule intended to increase the amount current minimum. The agency did not propose a number in the ANPRM.
FMCSA says in the notice it would also consider with the potential rulemaking current regulations regarding self-insurance.
It will accept comments until Feb. 26, 2015, on the regulations.gov rulemaking portal. Click here to make a comment on the ANPRM.
FMCSA published a report in April saying that if the current minimum, which was set in the 1980s, had kept up with inflation, it would be nearly $2 million today. And if it had kept up with a measure of inflation relative to medical costs, it would be closer to $4 million, according to FMCSA's report.
Trucking groups — like the American Trucking Associations and the Owner-Operator Independent Drivers Association — maintain that only 1 percent of claims in truck-involved crashes exceeds the current minimum.
Check CCJ next week for more on the proposal.
Click here to read CCJ's coverage of FMCSA's April report.
ATA's David Osiecki told CCJ earlier this month that the rule will come slowly, and it may never come, he said. Click here to read more on Osiecki's comments.