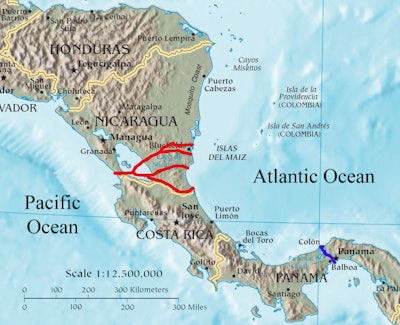 Did you know that Nicaragua was about to begin construction of a new shipping canal across Central America linking the Pacific and Atlantic Oceans?
The project has flown under the radar and remains cloaked in mystery. But a Reuters report out today says Chinese work crews will begin later this month with the first ship due to sail through the new canal sometime in 2020.
It's common news that the Panama Canal is set to complete a massive expansion project sometime in the next year or so. This project will double the canal's shipping capacity allowing more, and larger, ships through. But according to Reuters, the new Nicaraguan canal will be longer and deeper than the Panama Canal. Which means that if the new canal is completed, shipping capacity – and resulting trucking capacity – on the U.S. Gulf Coast and Eastern Seaboard could effectively quadruple in the next 10 years.
I just stumbled across this story a few minutes ago, so my thoughts on it are still evolving. But a few general themes have already come to mind:
Currently, the U.S. port infrastructure is not ready to handle the increase in capacity the Panama Canal's upgrade is expected to generate. Massive investments will have to be made to handle cargo should the Nicaraguan Canal come into operation.
Intermodal and regional haul fleets need to keep an eye on this new canal and start planning to meet additional demand accordingly.
Long-haul carriers may want to start considering a shift to a more "Super Regional" style service.
The roads on the Eastern Seaboard are already a dilapidated, congested mess. Increasing truck volumes on those roads is going make a bad problem a lot worse unless new road construction and expansion of existing roads begins now.
Where are the drivers going to come from to handle this dramatic uptick in freight in the East?
For now, I don't think anybody needs to panic. The first attempt to build a canal across Central America 100 years ago was in Nicaragua – and it failed miserably. Obviously, new construction technology today changes that landscape dramatically. So if the willpower is there, this canal will come into existence.
On the other hand, the whole project is so clouded in mystery it's likely the whole thing could be a massive swindle. The bottom line is it's too soon to tell how serious this whole effort is. But, make no mistake, if this canal comes into operation in the next five years, the ripple effects it creates will cause great changes in the way many U.S. fleets operate today.