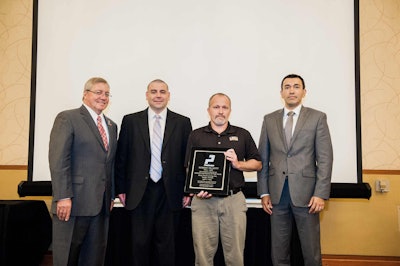 Robert Elliott of Rush Truck Leasing in Tampa Bay, Fla., and Buddy Newton of MHC Truck Leasing in Colorado Springs, Colo., have been named PACCAR Leasing Company's (PacLease) Peterbilt and Kenworth service managers of the year. The awards were presented at PACCAR Leasing's maintenance management seminar recently held in Anaheim, Calif.
Regional winners included:
•
Vic Macias of Inland PacLease (Fontana, Calif.,) Kenworth west region;
•
Dean Hendricks, JX PacLease (Waukesha, Wisc.) Peterbilt east region;
•
Kelly Whyte, C.T.S. Lease and Rental (Winnipeg, Manitoba) Kenworth Canadian region;
•
Antonio Racioppo, Peterbilt Ontario Truck Centres (London, Ontario) Peterbilt Canadian region;
•
Robert Elliott, Rush Truck Leasing (Tampa Bay) Peterbilt west region;
•
Buddy Newton, MHC Truck Leasing (Colorado Springs) Kenworth east region.
"Maintenance is a critical component for lease customers in order for them to minimize downtime — and we feel it's a competitive advantage for PACCAR Leasing," said Rick Tapp, PacLease's maintenance manager. "Our technicians work on Kenworth and Peterbilt trucks, they're factory-trained, and know the truck models inside and out. System wide, uptime for our customers is a key focus, and Robert and Buddy epitomize service quality in every aspect."
According to Tapp, Elliott has helped grow the Tampa Bay PacLease location from five trucks to more than 200 since its inception five years ago. "He's done an excellent job of working with his customers to perform preventive maintenance inspections on time. He's dedicated to exceeding customer expectations, which has contributed to their rapid growth."
"It's a customer-first philosophy," said Elliott. "This award recognizes the hard work and passion our entire team puts toward customer service. When our franchise was announced as the Peterbilt winner, I was speechless. I'm so proud of what our team accomplished."
As with Elliott, Newton has current PMs near 100 percent. "It's really a metric that directly impacts how a truck performs," said Newton, who like Elliott, deflected the service manager of the year honor from himself, to his tech teammates. "We manage 150 power units, plus reefer units, and the biggest factor is communication between our team and the customer. Every customer is different in how they operate and what they need. It's also why we have a 24/7 mobile service unit – some customers need on-site service. We're always on-call and do whatever it takes to keep a customer running. We have a customer-first mentality – if you don't take care of your customer, someone else will. We take that to heart."
"Buddy's philosophy, coupled with metrics documenting performance, are exactly why we selected him as the Kenworth service manager of the year," said Tapp. "He spends a lot of time coaching and mentoring his technicians to get the best of their abilities. A day doesn't go by where Buddy isn't thinking about customer service, or his team. He's completely immersed in offering the best in service, and fielding the best team."
According to Tapp, the announcement of the service manager of the year was the wrap-up to a 21Ž2-day service manager meeting. "We had 18 technical presentations, record attendance, and more than 90 percent of the franchise groups were represented," he said. "A quality maintenance program is a primary component to a successful relationship with a customer. It's very pivotal and a key reason why the customers re-sign with PacLease once their lease program is up for renewal. We feel we have the industry's best trucks in Kenworth and Peterbilt, coupled with dedicated technicians trained specifically on those products – backed by Kenworth and Peterbilt resources from engineers to the PACCAR Tech Center. It's a recipe for success."