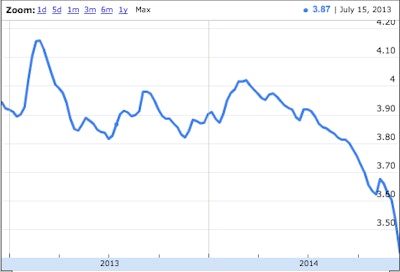 The national average price for a gallon of on-highway diesel fell another 6.8 cents in the week ended Dec. 29 to $3.213, according to the Department of Energy's Energy Information Administration's weekly report.
Diesel has now fallen seven straight weeks, dropping nearly 50 cents in that time frame. It has also dropped 24 out of the last 26 weeks, dating back to early July.
The price is down 69 cents compared to the same week last year.
All regions in the U.S. also saw a price drop, led by a 9.9-cent drop in the Rocky Mountain region, an 8.8-cent drop in the Midwest and a 7.3-cent drop in the West Coast less California region.
The New England subregion has the most expensive diesel, $3.364, followed by the the California subregion's $3.364.
The Gulf Coast has the country's cheapest diesel, $3.121, followed by the Lower Atlantic's $3.161.