On this New Year's edition of Money Monday (and the last of 2014), Class 8 truck orders continued their recent boom, while trailer orders also saw a big spike.
Multiple data points also showed a small dip in rates in recent weeks, attributable to the collapse in diesel prices in recent weeks and months, and Congressional action to suspend certain hours-of-service regulations likely will boost capacity utilization, Internet Truckstop reports.
Here some key indicators from recent weeks:
[gttable cols=""]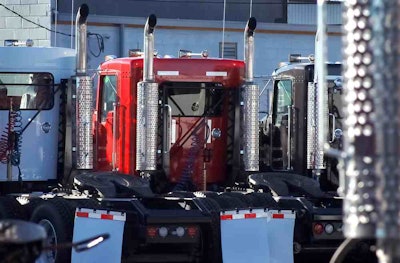 Truck orders zoom: ACT Research reported 40,925 Class 8 truck orders in November — the fifth best month since it began collecting data in the 1980s, ACT says. Orders year to date in November were up 42.4 percent from the same period in 2013, and truck makers have the largest order backlog since October 2006, ACT says.[/gttable]
[gttable type="table-striped table-hover" cols=""]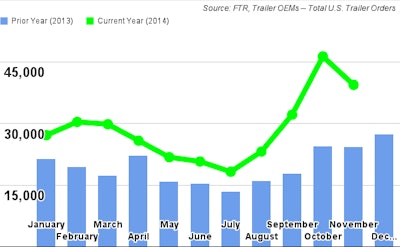 Trailer orders too: November trailer orders were up 43 percent from the same month last year, ACT says, and the three-month stretch of September, October and November marked the strongest consecutive order months "in industry history," says ACT's Frank Maly. Year to date, orders are up 55 percent, ACT reports.
FTR said November was the second highest month ever for trailer orders, and outlook for 2015 is "very positive," says FTR's Don Ake. "The trailer market is showing continued power and this momentum is now expected to flow into the second half of 2015."
[/gttable]
[gttable cols=""]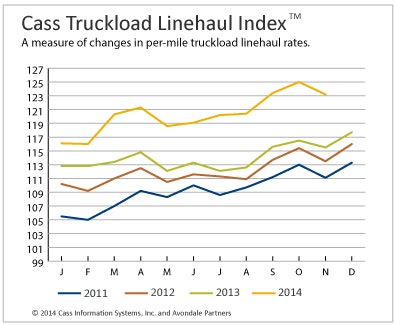 Rates remain strong, expected to hold: Cass Transportation Indexes reported a monthly decline in its Cass Truckload Linehaul Index (which is a measure of changes in truckload rates), but it still points to a 6.7 percent year-over-year increase as a trend expected to continue this month and into next year.[/gttable]
[gttable cols=""]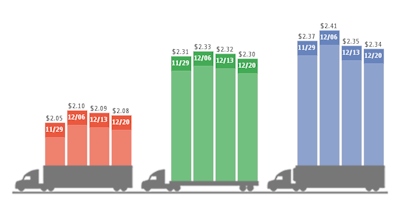 Fuel's effect on rates: Rates on the whole dipped a cent in the week ended Dec. 20, according to DAT Solutions' Trendlines. A decline in average fuel surcharge indexes is to blame, DAT says. In the week, van and reefer rates lost a penny each while flatbed lost two.
[/gttable]
[gttable cols=""]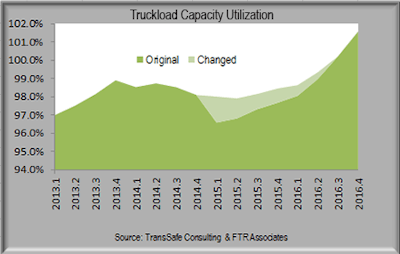 Restart rollback to boost capacity utilization: Driver and fleet productivity will see about a 2.2 percent increase with the industry's reversion to abiding by pre-July 2013 hours-of-service restart rules, Internet Truckstop predicts in its weekly Trans4Cast. As the chart notes, capacity tightness expected for 2015 could be eased a bit, with the lighter green shaded area representing higher utilization expected from the productivity boost.[/gttable]