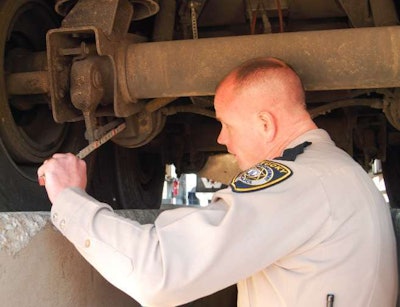 Enforcers in the annual week-long inspection spree held in September placed 2,162 trucks — 16.2 percent of the vehicles inspected — out of service, according to numbers released Jan. 5 by the Commercial Vehicle Safety Alliance.
The percentage of vehicles placed out of service jumped a few points from 2013's record-low of 13.5 percent, but the percentage comes from a smaller sample size: Inspectors only checked about 65 percent of the number of trucks and buses inspected in 2012 and 2013, when both years saw more than 20,000 vehicles inspected.
In 2014's Brake Safety Week, only 13,305 trucks and buses were inspected.
The annual inspection blitz is a joint effort conducted by CVSA, the Federal Motor Carrier Safety Administration and state enforcement groups. Inspectors concentrate on brake systems and their components.
The overall out-of-service rate of 16.2 percent was the highest in the previous four years, topping 2011's 14.2 percent, 2012's 15.3 percent and 2013's 13.5 percent.
Of the trucks inspected, 10.4 percent (1,388) were placed out of service for brake adjustment issues, also a high from recent years.
Brake component problems put 9.3 percent out of service, or 1,244 — also a four-year high.