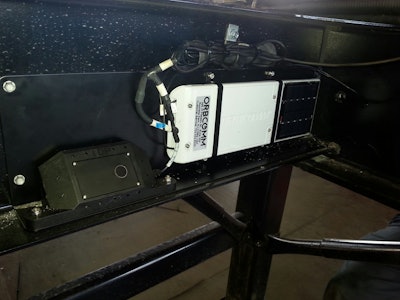 Orbcomm, a global provider of Machine-to-Machine (M2M) systems, completed the acquisition of SkyWave Mobile Communications (SkyWave), the largest M2M service provider on the Inmarsat global L-band satellite network, on January 1. The company announced it had entered into a definitive agreement to acquire SkyWave in November, 2014.
Based in Ottawa, Canada, SkyWave adds more than 250,000 subscribers, 400 channel partners, annualized revenues of over $60 million and adjusted EBITDA of over $12 million.
Orbcomm said the acquisition furthers its strategy to provide the most complete set of options and capabilities in the industry. With the addition of SkyWave, the company has one of the largest combined engineering teams in the M2M industry and gains economies of scale in operations and manufacturing. SkyWave brings distribution channels in South America, Asia and the Middle East, along with Inmarsat's support for broader global distribution.
Orbcomm also gains access to new geographies in Eastern Europe while adding diverse vertical markets such as security and marine. The addition of SkyWave's higher bandwidth, low-latency satellite products and services that leverage the IsatDataPro (IDP) technology, now jointly owned by Orbcomm and Inmarsat, also further expands the breadth of its portfolio.
"This transformative acquisition creates the largest space-based global M2M company with unparalleled capabilities, established go-to-market channels and global network coverage," said Marc Eisenberg, ORBCOMM's Chief Executive Officer. "With our expanded scope and scale, we are well-positioned to provide the industry's most diverse portfolio of M2M solutions and connectivity options that leverage both the ORBCOMM and Inmarsat networks."
Raymond James served as financial advisor to ORBCOMM on this transaction, and William Blair & Company served as financial advisor to SkyWave. For additional information on this transaction, please refer to ORBCOMM's SEC filing on Form 8-K regarding this transaction.