Omnitracs Analytics, a business unit of Omnitracs formerly known as FleetRisk Advisors, announced that Super Service, a 950-truck privately held dry-van carrier delivering consumer products, beverages and paper, deployed Omnitracs Analytics' Driver Retention Model across its entire fleet. During the first six months, Super Service reduced its turnover rate of the highest-risk 10 percent of drivers from 203 percent to 66 percent, retaining an average of 20 drivers per month and saving more than $60,000.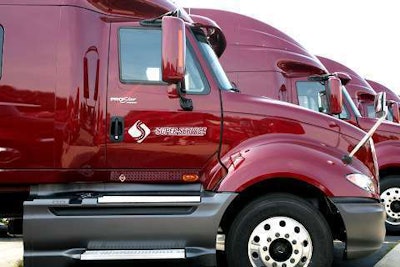 "Prior to deploying the Omnitracs Analytics' predictive analytics platform, our approach to driver retention was reactive," said Vaughn Yow, vice president of operations at Super Service. "Omnitracs Analytics has been instrumental in helping us improve driver retention by identifying the 'at-risk' drivers who were most likely to quit, and then addressing their concerns based on the model's predictions."
Yow went on to say that by using Omnitracs Analytics' remediation plans, the company was able to "connect with the right drivers on the right subject, creating closer and more open relationships before problems arise."
With increased driver satisfaction and reduced churn, the technology paid for itself more than once in a one-month period, he said. Based in Grand Rapids, Mich., the privately held dry-van carrier initially started with targeted coaching and strategic interventions on the highest risk 10 percent driver group but has since moved to 20 percent to have a larger impact.
By analyzing a fleet's historical data, Omnitracs Analytics' Driver Retention Model identifies patterns and changes in driver behavior that correlate with voluntary terminations. This enables fleets to identify drivers at higher risk to leave the company and follow the recommended coaching plans to mitigate their risks.
"Predictive Analytics is vital to helping fleets address one of their biggest pain points— keeping good drivers happy, safe and productive," said Dean Croke, vice president of Omnitracs Analytics. "Fleets that talk to the right driver on the right subject at the right time can reduce churn and retain their top talent, and can also increase driver satisfaction and, in turn, develop better fleet manager-driver relationships."