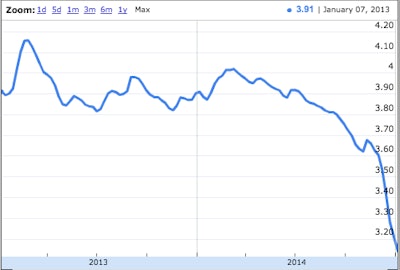 The national average price for a gallon of on-highway diesel fell another 8.4 cents in the week ended Jan. 12 to $3.053, according to the Department of Energy's weekly report.
That's the lowest price since early November 2010, and another week of declines like those seen in recent week — consecutive drops of 7 cents, 11.6 cents, 13.8 cents, 6.8 cents, 7.6 cents and 8.4 cents — will push the U.S. average at-pump price of diesel below $3 for the first time since September 2010.
The U.S. average diesel price has now dropped 8 straight weeks and 26 of the last 28. It's also dropped more than 55 cents in the last six weeks.
ProMiles reported in its Fuel Surcharge Index a similar drop – 8.6 cents to a $3.011 average.
All regions in the U.S. saw a price drop too, according to the DOE. The Rocky Mountain region led the decreases with an 11.2-cent drop, followed by the West Coast less California's 9.6-cent drop and the West Coast's 9.4-cent drop.
Two regions in the U.S. also saw average prices below $3: The Gulf Coast region posted a $2.964 average, the country's cheapest diesel, followed by the West Coast less California's $2.978.
The California region had the country's most expensive diesel, $3.250, followed by the Central Atlantic's $3.239.