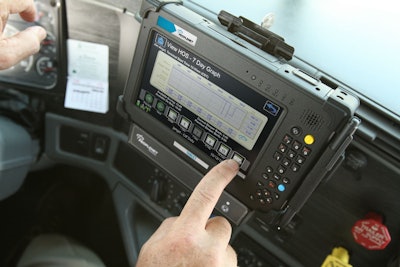 One of the largest providers of fleet mobile technology, PeopleNet, a Trimble company, announced it has developed four new business lines to serve the unique needs of its customers. They are Trucking, Energy Services, Video Intelligence and Channels/OEMs.
Trucking, the largest division, will be led by Mark Kessler as the new general manager. Kessler and his team will continue to deliver customer service to PeopleNet's nearly 2,500 fleets and focus on new products and services. In addition, PeopleNet said the division will focus on delivering more KPI's and analytics to help fleets build a competitive advantage.
"We see great opportunities in the current marketplace, with adoption of mobile technology at record pace," said Kessler, who has 20 years of experience in sales, mergers and acquisition, strategic development, operations, customer service, product development, media and marketing.
Other divisional GMs will be named in the near future.
"In the nearly 15 years that Mark has been with PeopleNet, he has made significant contributions to our organization. He's a great leader who will be an excellent general manager of the Trucking division. We're excited about the organizational changes we've made at PeopleNet. They will help our team members to be tightly aligned within key areas for our clients so they can further provide top-quality products and services specific to industry needs," said Brian McLaughlin, president of PeopleNet.