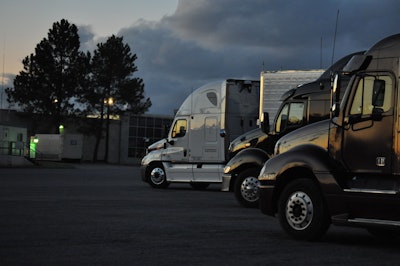 The Federal Motor Carrier Safety Administration said this week it needs truck drivers interested in participating in the Congressionally required study of certain hours-of-service rules. The study is tied to December's restart rollback law, which stripped funding from enforcement of 2013's 34-hour restart provisions until FMCSA further studied the rules' impacts.
FMCSA says drivers will be paid to participate, and their carriers could be paid for lost revenue and for the cost of installing data collection equipment on their trucks, the agency says.
Also, the agency emphasized in its announcement that drivers who participate will drive their normal routes.
Driver participants will be required to complete three-minute alertness tests each day and will be required to maintain sleep and wake logs each day, record their caffeine intake and report sleepiness during the study.
As reported previously by CCJ, the agency is required by Congress to complete the five-month study, in which it will study two sets of drivers. One set will abide by the restart rules that require the two 1 a.m. to 5 a.m. periods to be included in the 34-hour restart, while the other set can take their 34-hour restart at whichever hours they want.
FMCSA will gauge "safety critical events" of the the two groups — crashes or near-crashes, it says — along with truck operator fatigue, alertness levels and overall health.
The agency says those interested in participating should add their name to the study's mailing list — click here to do so.