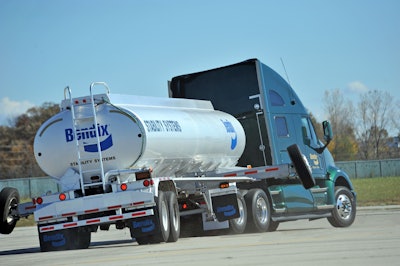 A federal rule that would require all new trucks to come standard with electronic stability control systems has been sent to the White House's Office of Management and Budget for its stamp of approval.
The rule, which came from the National Highway Traffic Safety Administration, is designed to help mitigate rollover and loss-of-control crashes, according to the synopses from NHTSA.
"Rollover and loss-of-control crashes involving heavy vehicles is a serious safety issue that is responsible for 304 fatalities and 2,738 injuries annually," NHTSA says. "They are also a major cause of traffic tie-ups, resulting in millions of dollars of lost productivity, and excess energy consumption each year."
A proposed mandate was published in 2012, and the agency accepted public comment for 90 days. The rule sent to the OMB this week is the Final Rule, and it will take effect two years following its publication in the Federal Register.
NHTSA projects the rule will cost about $113 million per 150,000 trucks produced — based on 2012 figures.