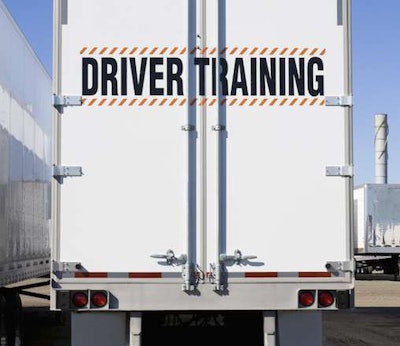 The Federal Motor Carrier Safety Administration announced this week it has composed a 26-member group — representing carriers, drivers, labor, driving schools and safety organizations — to the committee tasked with developing an entry-level driver training rule.
The agency announced its intentions last year to develop an entry-level driver training rule via a "reg neg" — a negotiated rulemaking done by essentially allowing industry stakeholders to craft the rule.
The entry-level driver training rule will establish minimum training requirements for truck operators, including length of classroom instruction and behind-the-wheel experience; accreditation versus certification of CDL training programs and schools; potential distinct curricula for property, hazmat and/or passenger carriers and other areas.
Included on the list representing trucking and motor carriers are:
Boyd Stephenson, director of hazmat and commercial licensing policy for the American Trucking Associations
David Heller, director of safety and policy for the Truckload Carriers Association
John Lannen, executive director of the Truck Safety Coalition
Scott Grenerth, director of regulatory affairs for the Owner-Operator Independent Drivers Association
Jim Edwards, Washington rep for the National Association of Small Trucking Companies
Bryan Spoon, owner-operator for Spoon Trucking
Ellen Voie, president and CEO of Women in Trucking
Click here to see the full list of committee members, which also includes represenatives from driver training organizations, labor groups like the Teamsters and safety organizations like Advocates for Highway and Auto Safety.
FMCSA intends to publish a Notice of Proposed Rulemaking by this fall, with a Final Rule expected next year.
"Finalizing new training requirements for truck and bus operators is one of my top priorities," said FMCSA Acting Administrator Scott Darling, "and we have tapped a group of uniquely qualified stakeholders to help us work through the details and meet this goal."
The first meeting of the advisory committee is scheduled for 9 a.m.-4:30 p.m., Feb. 26-27, at the Hyatt Regency Crystal City, 2799 Jefferson Davis Highway in Arlington, Va. The meeting will be open to the public.