Click here to see all of CCJ's coverage of news from TMC.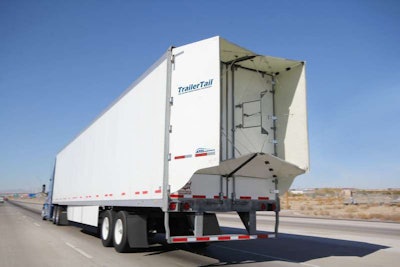 UPDATED SUNDAY, FEB. 15, 2015:
Stemco, a manufacturer of wheel end, braking and suspension components, has acquired ATDynamics, Inc., a maker of aerodynamic devices and fuel efficiency-related products. ATDynamics will become part of Stemco's Innovative Tire & Mileage Solutions group, which includes the company's Aeris automatic tire inflation systems.
"The acquisition of ATDynamics aligns with our strategic direction to assist our fleet customers in improving fuel efficiency and increasing tire life," said Todd Anderson, president of Stemco. "It continues to build a solid platform from which we can offer a more complete line of aerodynamic products."
ATDynamics' TrailerTail technology streamlines the airflow around a semi-trailer and mitigates the low-pressure suction drag that reduces fuel efficiency and creates turbulence. The ATDynamics EcoSkirt also works to improve tractor-trailer fuel efficiency by reducing aerodynamic drag that occurs under the trailer, where air hits the trailer's rear axles. Both products increase safety by stabilizing the vehicle, reducing driver fatigue and reducing road spray in wet conditions.
"As Stemco researched how to enter the aerodynamics marketplace, we looked at every company that makes OEM or aftermarket product and we recognized ATDynamics as a clear leader in rear-drag aerodynamic technology," said Bob Montgomery, vice president of Stemco's ITMS group, who will lead the combined business. "Our vision is to be the provider in this business for aerodynamic technologies for the trailer."
The acquisition provides ATDynamics' EcoSkirt and TrailerTail products access to Stemco's existing sales and support network. "We couldn't be happier about this match," said Andrew Smith, ATDynamics CEO. "In a few weeks, we'll have an additional 40 salespeople around the country talking about the benefits of these products and delivering the $2 to $3 billion/year savings to the industry by adding the TrailerTail."
"I am especially excited to unite the talented team at ATDynamics with the Stemco family, expanding the portfolio of products we will now be able to offer, and growing the opportunities for innovation targeted at increasing safety, reducing fuel consumption and tire wear, and reducing pollutants," said Montgomery.