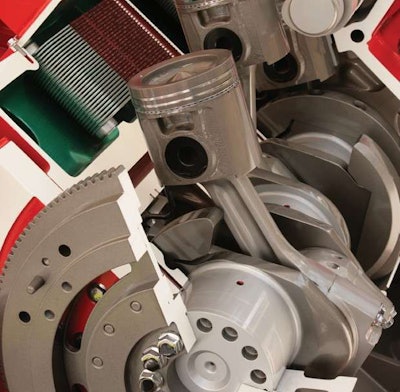 Prior to this year's Technology and Maintenance Council's annual meeting, CCJ had the chance to talk to ExxonMobil's Lilo Hurtado, the company's senior applications engineer, about upcoming regulatory changes and changing technology in the trucking industry:
CCJ: At this year's TMC annual meeting, I am sure you will hear discussions asking why we need a new diesel oil standard like PC-11. What's your basic answer to that?
Hurtado: I'm sure it will definitely come up. The industry periodically updates standards to address performance and emissions concerns from OEMs. In this case, the major focus is on fuel economy, due to the joint EPA and NHTSA regulations reducing greenhouse gas emissions and improving average fuel economy.
CCJ: What's the progress on the PC-11 specification?
Hurtado: The timing and name have not been finalized, but when the new standard becomes official, it will be API CK-4 for applications currently recommending CJ-4 oils. Also being established in parallel is a newly defined standard, intended to provide improved fuel economy and lower GHG emissions benefits relative to API CK-4 oils. The key property differentiating these two new standards will be in high-temperature/high-shear viscosity (HTHS).
Lower HTHS viscosity will provide improved fuel economy; but under high temperature and/or energy situations (thin film lubrication at high sliding speeds in oil pumps, gearboxes, valve train, and piston rings, etc.), it must be sufficient to prevent engine wear.
The API CK-4 oils will offer the same HTHS viscosity as CJ-4 oils do today; while the EPA 2017 GHG engines will require engines that operate with a thinner protective oil film (HTHS) in between their moving parts, while ensuring the durability of the engine is maintained. The first licensing is scheduled for early 2017; however, there is a desire from some engine manufacturers to advance the timing to late 2016.
CCJ: Do you still see alternative engine technologies like natural-gas engines gaining marketshare? If so, will that impact the market for diesel engines?
Hurtado: Long-term, we see the global trend toward natural-gas engines continuing to grow. As such, we have developed Mobil Delvac CNG/LNG15W-40, which is designed for use in spark-ignited compressed natural-gas (CNG) and liquefied natural-gas (LNG) engines.
However, diesel will continue to be the most common and widely used engine technology for a number of years to come.
When it comes to diesel engine technologies, we see OEMs continuing to focus on introducing engines that deliver greater fuel economies and offer the potential to reduce emissions, typically through the incorporation of aftermarket treatment devices.
That's one reason why we are seeing growing interest in low-viscosity synthetic engine oils, like our Mobil Delvac 1 LE 5W-30, which is formulated to help deliver optimal protection for advanced engines and their aftermarket treatment devices.
CCJ: Despite all the regulatory and technology changes, aren't fleets main concerns relative to engine oil still on optimizing fuel economy and oil drain intervals?
Hurtado: These are – and will continue to be – two primary concerns for fleets from an operational standpoint.
When it comes to fuel economy there are many factors that can impact results – including engine type, driver habits, speed, and lubricant choice (synthetics are typically better than conventionals).
As for optimizing oil drain intervals, we're always challenging our customers to look at how they do their business. Extended oil drain intervals need to be carefully established so as not to impact the fuel economy potential of the oil. Oils may thicken through the aging process (oil drain interval), making them more viscous, so we need to optimize both the oil drain intervals and their fuel economy potential.
We use a comprehensive, data driven approach to analyze how equipment is doing in real-world service conditions. Our goal is to help identify the oil drain interval that will yield the lowest total operating cost without sacrificing engine durability – or the fuel economy potential of the oil.
By engaging our customers' engineering and maintenance teams, as well as their OEM partners from the start, we can ensure alignment among all key stakeholders throughout the process. This helps simplify the evaluation phase, and helps our fleet customers extend their oil drain intervals with confidence.