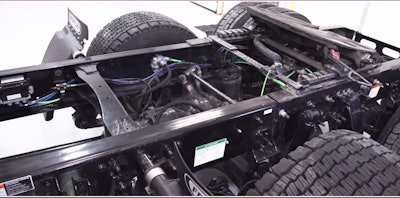 Click here to see all of CCJ's coverage of news from TMC.
Meritor is previewing breakthrough technology at the TMC Annual Meeting in Nashville that it says will give fleets greater peace of mind and contribute significant tire cost savings to their bottom lines: A new, tractor-optimized, tire pressure monitoring system (TPMS).
The new TPMS system is largely an in-house project for Meritor — although the company's long-term partner, Tire Pressure International (TPI), has contributed technical expertise to the system. Meritor Vice President of engineering and quality control, Joe ElBehairy said that while TPMS systems for trailers are now commonplace in trucking today, creating a system for tractors faced a variety of challenges that had to be overcome. These included designing highly robust seals that can retain integrity in a highly dynamic environment and routing air lines through drive and steer axles.
ElBehairy says Meritor engineers have met those challenges and developed a working system that is undergoing rigorous testing in North America today. The new Tractor TPMS system is not slated for launch in North America until late next year (or early 2017) but Meritor says that the ability to keep tractor tires at proper inflation pressures at all times will have dramatic benefits to fleets, offering annual fuel savings up to $3,453 per truck per year in combined fuel, tire, maintenance and service costs.
Meritor also showcased a number of new tandem drive axles and driveshafts designed to work with new and upcoming downspeed Diesel engines. These products include the company's new 14X tandem drive axle with a "super fast" 2.28 gear ratio.