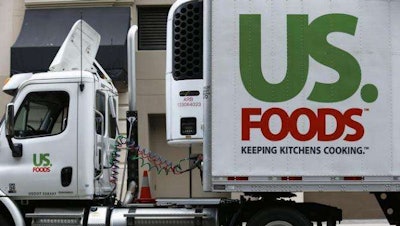 State attorney generals have joined the Federal Trade Commission's effort to block a merger between Sysco Corp. and U.S. Foods Inc. they say would violate antitrust laws.
An FTC administrative law judge will hear both sides' arguments July 21 over merger plans by the top two U.S. broadline foodservice distributors. Additionally, the FTC and attorney generals from ten states and the District of Columbia have asked a U.S. district court for a preliminary injunction to keep the companies separate until the commission hearing.
Sysco and USF are the only two broadline distributors with nationwide networks of distribution centers, the AGs and the FTC told the D.C. federal court Feb. 19.
"Broadliners" sell and deliver food and related products to restaurants and other foodservice operators. Alternative foodservice channels, such as systems foodservice distribution, are inadequate substitutes because they do not offer one-stop shopping and frequent and flexible delivery of broadliners.
The commission said Sysco and USF compete aggressively for the broadline business of independent restaurants and others operating in a local area. Merging would likely harm competition in 32 local markets, it stated.
The FTC's 3-2 vote to stop the merger shows lack of commission consensus, said Sysco's Bill DeLaney.
Delaney took issue with FTC's assertion that the two companies have a 75 percent market share of the U.S. broadline market. The vast majority of national customers use multiple regional or local distributors, DeLaney said.
"Additionally, the FTC claims the merger would harm competition in 32 local markets, ignoring the existence of myriad local suppliers, including broadline companies, specialty companies, cash-and-carry, and club stores with whom Sysco and US Foods compete on a daily basis," he said.
When the merger is complete, Sysco will sell USF facilities in 11 markets to Performance Food Group, a move meant to appease commission concerns.
Still, the FTC says this proposed sale "would neither enable PFG to replace US Foods as a competitor nor counteract the significant competitive harm caused by the merger."
Private equity companies own the Illinois-based USF, while Houston's Sysco is the only major publicly traded foodservice, with a fleet of more than 9,000 trucks.